News story
Support for Local Authorities to keep homes warm and lower energy bills
Local Authorities get £88 million to deliver Green Deal Communities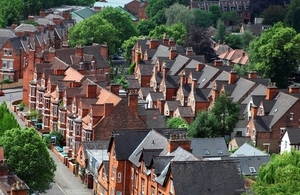 Local Authorities across the country are to receive a share of £88 million to help deliver the Government's Green Deal home energy efficiency improvement programme.
The scheme will be rolled out on a street-by-street basis and will aim to help around 32,000 households install energy efficiency home improvements like solid wall insulation and hew heating systems so that they have warm, more energy efficient homes and better control of their energy bills.
Minister for Energy, Greg Barker said:
"Properties across the country are leaking hundreds of pounds every year through faulty boilers, draughty windows and insufficient insulation.
"By installing energy saving improvements we can help thousands of hard pressed consumers save energy and lower their bills.
"This is why we've quadrupled the Green Deal Communities funding, so that Local Authorities can help many more people benefit from these improvements."
The 24 Local Authorities to be offered a share of £88 million from the Government under the Green Deal Communities scheme are:
East Hampshire District Council: £2,944,668
Dartford Borough Council: £4,026,855
Leeds City Council: £4,943,200
Bristol City Council: £7,292,200
Nottingham City Council: £5,473,300
Broadland District Council (S. Norfolk & Norwich City Council): £1,444,300
London Borough of Hillingdon: £2,975,900
Telford & Wrekin Council: £4,859,900
Worcestershire County Council: £3,630,100
London Borough of Lewisham: £1,656,222
Surrey Coalition (Woking Borough Council): £2,550,491
Plymouth City Council: £3,068,800
South Buckinghamshire District Council: £2,574,991
Manchester (Oldham Metropolitan Borough Council): £6,119,700
Ashfield District Council: £1,097,098
Suffolk County Council: £5,712,600
Cambridge City Council (Cambridgeshire wide consortium): £7,857,400
Peterborough City Council: £3,945,100
London Borough of Haringey: £6,560,012
Bracknell Forest Council: £1,820,714
Eastleigh Borough Council: £3,336,900
Nuneaton & Bedworth Borough Council: £2,084,502
London Borough of Harrow: £1,457,100
Bath & North East Somerset Council: £929,300
The Green Deal is an ambitious and long-term Government initiative designed to upgrade the energy efficiency of our homes in Great Britain. It can help people understand the energy saving improvements they can make to their home and decide how to pay for them.
Local Authorities will roll the scheme out on a street-by-street basis. They know their areas best and which streets and properties could most benefit from Green Deal to upgrade their energy efficiency.
Further information
Published 2 April 2014