Press release
Sunshine company skipped the rules
Company director Glen Roy Davis has been fined £4,080 for running an illegal skip business in Basildon.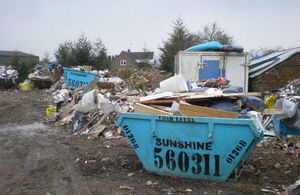 Trading as Sunshine Skips Ltd he ran the business at Marsh Farm on Vange by-pass without an environmental permit, putting the environment at risk.
He pleaded guilty today (Thurs) at Chelmsford Magistrates' Court and was ordered to pay £3,000 towards costs.
The court heard that his company ran the site illegally under his directorship between March and June 2013.
Between June and November he let a friend run the business for him during which time waste was stored and burned at another site in London Road, Pitsea. He was charged with not preventing another person breaching environmental rules.
Mrs Miriam Tordoff prosecuting for the Environment Agency said in March 2013 an officer visited Marsh Farm and found about 100 cu metres of waste in 17 skips and about the same amount on the ground. The site was not suitable for the type of business run there as any pollutants could be washed into the soil by rainwater.
Agency officers went to the site again in April with an officer from Essex County Council. Similar amounts of waste were found.
A letter was sent to Davis and his company telling them to stop operating and to clear the site within four weeks. An extension had to be given. While much of the waste was cleared, Davis failed to clear all the waste within the agreed deadlines.
Davis told investigators that he hired out skips to builders and that waste was usually taken to a registered site but was sometimes stored for a couple of days at his site. He was unaware that he needed permission to operate a waste site.
Officers also visited land at Bull Farm, in London Road, Pitsea in June 2013 and saw several Sunshine skips full of waste. One of them had waste burning in it. Three months later they responded to reports of burning at the site but found none.
Davis left a friend to run his business from June to November 2013 until he sold it, the court heard. Sunshine Skips Ltd was dissolved on 6 May 2014.
In mitigation, Davis' barrister accepted that Davis had been negligent but had been naïve about the rules. He said Davis had not deliberately cut corners for financial gain. Some of the waste at Marsh Farm belonged to other operators at the site, he said.
After the hearing Environment Agency officer Sylvie Fung said:
Anyone who disposes, transports or treats waste has a duty of care to ensure it is handled correctly.

Davis made no attempt to contact us when he began to operate at Marsh Farm to find out what permissions he needed and allowed his friend to operate his business on his behalf. Illegal waste sites such as these not only undermine legitimate businesses but can also result in environmental harm. We are always happy to advise waste businesses on relevant registrations or permits if they ask.
Charges:
Between 19 March 2013 and 20 June 2013 on land at Marsh Farm, Vange by-pass, Basildon, Essex SS16 4QG Sunshine Skips Limited did with your consent or connivance or attributable to neglect on your part as a director of Sunshine Skips Limited, operate a regulated facility, namely a waste operation for the deposit and storage of waste, without being authorised by an environmental permit granted under Regulation 13 of the Environmental Permitting (England and Wales) Regulations 2010.
Contrary to Regulations 12(1)(a), 38(1)(a) and 41(1)(a) and (b) Environmental Permitting (England and Wales) Regulations 2010 Fined £4,000
Between 18 June 2013 and 15 November 2013 you failed to comply with the duty of care imposed by Section 34 (1)(aa) of the Environmental Protection Act 1990 in that you, being a person that keeps, treats and disposes of controlled waste, failed to take such measures as were reasonable in the circumstances, in that you failed to prevent any contravention by any other person of regulation 12 of the Environmental Permitting Regulations or of a condition of an environmental permit. Contrary to section 34(1)(aa) and (6) Environmental Protection Act 1990 Fined £80
Published 12 March 2015