News story
Success on a pallet
At Sellafield we take recycling and reducing domestic waste very seriously.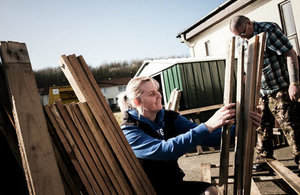 At Sellafield we are always looking for ways we can not only reduce waste like plastic, paper and glass, but also how we can reuse it for the good of our local community.
Our wooden pallets that are used to deliver equipment and machinery to the site are getting a new lease of life out in the community, while freeing up valuable space on the Sellafield site itself.
Our assets disposition team is tasked with safely removing surplus items from the site to make sure we make best use of our 6km2 footprint.
Gareth Kendall, Chair of the assets disposition team said:
We use a process similar to the waste hierarchy of reduce, re-use and recycle. The service offers value to local communities and charities if the donation step is used.

If this process wasn't used then all redundant items would have to be disposed of at a cost to the taxpayer. Most recently the local community has benefitted from the donation of surplus wood that was destined to be disposed of as waste.
Some of our wooden pallets are now at HMP Haverigg, for their external allotments. They're making raised beds for planting, furniture and planters. Any money raised from the sale of the goods is invested back into the rehabilitation programme for offenders.
Education and Community Programmes Officer, Pauline Farrell told us:
These donations of wooden pallets are making a huge difference to many charitable organisations across the region. They are making great use of our surplus items that we don't have any use for which enables them to earn cash to reinvest and grow.
The Cleator Moor based organisation 'Skills 4 You' is also using our pallets to produce items for community projects such as bird tables, picnic benches and bird feeders. The project works with various groups to address levels of unemployment and provide practical work experience whilst enhancing skills and promoting self-development.
And the local 'Men in Sheds' group based at Mirehouse Community Centre in Copeland is using donated pallets to make storage racks for the newly delivered council recycling boxes, with any profits being used to grow the capability and capacity of the group.
The transit store on the nuclear site is also making changes to how they reduce the amount of wooden pallets going over into operational areas. They are currently looking at using plastic pallets instead of wooden ones to minimise the amount of low level waste produced.
Once wooden pallets which have deliveries on go enter certain areas of the site, they are classed as nuclear waste and categorised as low level waste which then goes on to the Low Level Waste Repository site at Drigg to be safely stored.
By replacing deliveries onto plastic pallets, these can be monitored safely and re-used many times over, and therefore reducing our costs by nearly half.
Published 6 June 2018