Press release
Student Money Week 2019 brings finance to life for students
This Student Money Week (11-15 February), the Student Loans Company (SLC) is bringing finance to life for students and their parents.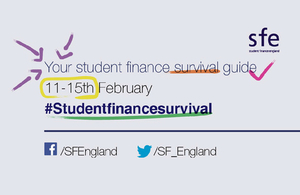 SLC is working with partners including UCAS, the National Association of Student Money Matters (NASMA) and The NHS Business Services Authority (NHSBSA) to host the online event which will include a series of live Q&A sessions on Student Finance England's Twitter and Facebook channels. 
This year's theme is all about helping students get ready for each stage of the student finance journey from application through to repayment. There will be tips on budgeting and what to expect from student life, as well as information on how to make the most of the various sources of help available.  
Parents and partners are also being encouraged to get involved and find out how they can support their child or their partner's application and make sure they get all the finance they are entitled to. 
Derek Ross, Executive Director of Operations at The Student Loans Company (SLC) said:
"Student finance can seem complicated, especially for those who are unfamiliar with the process. Our team of student finance experts will be on hand every day throughout Student Money Week to explain how the system works and answer any questions. Whether students are getting ready to apply for student finance for the first time, returning to studies or about to enter repayment, we are here to help them and their parents or partners." 
The themes for each day are: 
· Monday – Student finance explained and what to expect from student life 
· Tuesday - Applying for finance: getting it right first time and everything parents need to know  
· Wednesday - Budgeting and how to make your money go further 
· Thursday - Extra help: targeted support. 
· Friday – Repayment 
More information on Student Money Week 2019 can be found at studentfinance.campaign.gov.uk or by following SFE on Facebook, Twitter (@SF_England) and YouTube for regular updates.
For further information contact:
Published 8 February 2019