Press release
Student Loans Company announces new CEO
Paula Sussex has been named as the new CEO of the Student Loans Company (SLC).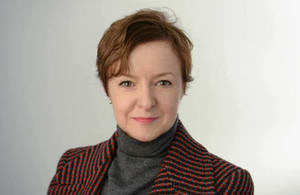 She takes up the role on Monday 17 September with Peter Lauener stepping down as interim CEO, a position he has held since November 2017.
Following approval by Universities Minister Sam Gyimah, SLC Chairman Christian Brodie made the announcement on the SLC website today [Thursday 6 September 2018]. In it he acknowledged the contribution of interim CEO Peter Lauener who will work until the end of September to support a smooth handover to Paula.
Paula was previously Chief Executive of the Charity Commission for England and Wales, stepping down at the end of her three year term last year.
A graduate of the London Business School, she originally trained as a barrister before working in the private sector. Her 25 year career was primarily in consultancy, but also in the service delivery of large scale IT, latterly working as a Senior Vice President with Logica, before being appointed CEO of the Charity Commission in 2014.
Speaking about the appointment, Universities Minister Sam Gyimah said:
"We are seeing more 18 year olds going into full-time higher education than ever before, including those from disadvantaged backgrounds. We are also giving prospective students more information than ever before so they have clear information and guidance, along with easy to use services.
"This is paying off with latest figures showing that our world-class university system is helping thousands of students go on to great careers, boosting their lifetime earnings and unlocking their potential.
"The Student Loans Company play a vital part in this and I am looking forward to working with Paula to make this the best possible experience for students."
SLC Chairman Christian Brodie said:
"Paula's track record of delivery, coupled with her background and experience in large scale transformation and change programmes, made her a compelling candidate to lead the Student Loans Company.
"SLC is in the delivery stage of a change programme that will improve our service to customers through a 'digital first' strategy which will build on successes such as the introduction of electronic signatures for the vast majority of our new customers this year. We have ambitious goals to improve our service and at the same time improve efficiency and deliver excellent value for taxpayers. Securing someone with Paula's experience will help us do that."
Paula Sussex, incoming CEO of SLC, said:
"I am delighted to be joining SLC and relish the challenge of delivering an ambitious change programme, while at the same time administering student finance on behalf of DfE and the devolved administrations of Wales, Northern Ireland and Scotland. At the same time we are servicing over 8.2m customers, making payments of almost £17 billion to students, adult learners and education providers, as well as administering a loan book in excess of £117bn.
"I accepted the CEO role because SLC is clearly committed to improving its service to customers and to increasing engagement amongst its employees, two issues which are close to my heart. SLC is a hugely important organisation and I am looking forward to working with and getting to know the talented team there, as well as all our stakeholders."
For further information please contact:
Published 6 September 2018