Press release
Student Finance Wales scoops national accolade at industry awards
Customer Service Advisor, Sarah Powell, was rewarded for her commitment to supporting Welsh students secure funding for their studies.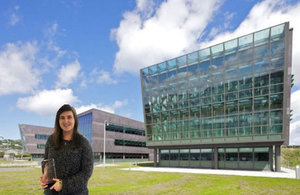 At the recent Welsh Contact Centre awards, Sarah attracted the attention of the judges with her enthusiasm to deliver excellent customer service, the support she gives to her colleagues and her consistently high level of performance and professionalism.
Sarah said: "I was completely shocked to hear my name called out at the ceremony and thrilled to receive the award!
"I love working at Student Finance Wales and in the past year have had the opportunity to progress and develop my career working on the project that won me the award and on secondment as a team manager.
"The award might be in my name, but it's for all my colleagues who I love working with and who work so hard for all our customers."
Sarah joined SLC in the autumn of 2013 and is described by her colleagues as being as 'cool as a cucumber'. She quickly got to grips with her role to provide invaluable support to the team, helping with customer queries and delivering excellent customer service in all areas.
Keith Lewis, Contact Centre Manager, said: "I am really happy for Sarah, she is a great colleague who is always willing to help others while doing her job consistently well and continues to embrace the opportunities that come her way."
Based at Llandudno Junction, Student Finance Wales supports 74,000 students per year with funding and answers over 180,000 calls each year. Derek Ross, Executive Director for Operations, added: "Well done to Sarah! This award recognises all her hard work and dedication. It also helps to acknowledge the fantastic service that the whole team in Llandudno Junction provides to our customers."
For further information please contact:
Published 10 April 2019