World news story
Strong British delegation at Sharm el-Sheikh led by Foreign Secretary Philip Hammond
Ambassador John Casson: "The British are coming in strength"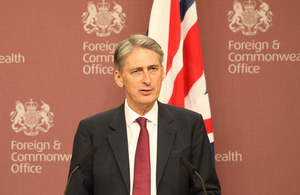 Foreign Secretary Philip Hammond will today lead a strong British delegation headed to Sharm el-Sheikh the "Egypt the Future" conference. The delegation includes representatives of world-leading British businesses such as Bob Dudley, Chief Executive Officer of BP and Sami Iskander, Chief Operating Officer of BG.
Already almost 50% of all foreign direct investment in Egypt comes from Britain, making Britain the largest single investor in Egypt. Some 75 British companies have been invited to the conference including Vodafone, the largest corporate taxpayer in Egypt; BG, whose latest $1.5 billion project brings their total investment to $14 billion, and WHSmith, which plans to establish their world famous brand in Egypt in the upcoming months. There are more speakers on the conference programme from Britain than from any other country. Sir Hugh Robertson MP, who played a leading role during the London 2012 Olympic Games, will speak about how sports can be a catalyst for business opportunities and social cohesion.
The delegation arrives the day before President el-Sisi and BP CEO Bob Dudley will formally sign the final agreements of the West Nile Delta (WND) project, which represents an investment of around $12 billion by BP and its partner. The project is the largest foreign direct investment in Egypt. Gas production at WND is expected to reach the equivalent of 25% of Egypt's current gas production. All gas produced at WND will be fed into Egypt's national gas grid and will significantly increase the supply of energy in Egypt.
The UK has also contributed policy support to the Egyptian government in the months leading up to the conference, bringing UK programme spending in Egypt to $50 million since 2011.
Speaking in advance of the conference, Ambassador John Casson said:
The British are coming in strength and we want to set an example to the world. Britain's commitment is not just about three days in Sharm el-Sheikh but about having a permanent presence at the heart of Egypt's economy. British companies are not just making profits, but are creating jobs, energy supplies and infrastructure to drive Egypt's future. And we are not just about signing businesses deals but about supporting long-term reforms that are needed for Egypt to succeed: cutting bureaucracy, removing obstacles to foreign investment, and ensuring that economic growth benefits the poorest and most vulnerable in society.
Published 13 March 2015