Press release
Striking the right gender balance in civil engineering
The role of women in civil engineering will come under the spotlight later today (23 June), as female engineers team up with colleagues from up and down the country, to mark National Women in Engineering Day.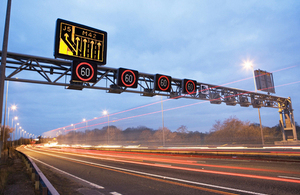 The Highways Agency has invited those responsible for designing, building and maintaining our roads, to the Think Tank Museum in Birmingham to focus on improving the recruitment, retention and progression of female talent within the sector.
Intelligence gathered by the Highways Agency suggests that more needs to be done to counter the stereotype of 'an engineer' and make jobs in the industry more appealing to women.
The day is aimed at generating genuine debate about whether we are doing enough to create significant and lasting change to gender balance across the sector. It will also provide an opportunity to share experiences and highlight sector wide initiatives that interested companies can engage with to make progress.
Graham Dalton, Highways Agency Chief Executive, said:
Attracting, retaining and developing capable people to deliver our expanding programme of work is one of the challenges that as an industry we need to rise to attracting, retaining and developing more women is part of the solution.
Naziya Sheikh has worked in civil engineering for 15 years. She said that, although the number of women working in the field has increased, she would like to see more taking up the challenge:
It is a challenge for a lot of women, but every job has its challenges.

I have been fortunate to have had a lot of support from my male colleagues. I really enjoy what I do and encourage other interested women to pursue and achieve their goals.

More women are now working in this field and that's partly due to partnership working with key stakeholders, who recognise that there are women who want to join this industry and who can do well.
National Women in Engineering Day was introduced by the Women's Engineering Society (WES) to celebrate its 95th anniversary.
Download and use Naziya's experience for radio broadcast.
General enquiries
Members of the public should contact the Highways Agency Information Line on 0300 123 5000.
Media enquiries
Journalists should contact the Highways Agency press office on 0844 693 1448 and use the menu to speak to the most appropriate press officer.
Published 23 June 2014