Strengthening capacity for preventing discrimination in Macedonia
British Embassy concludes project support to Macedonian institutions in implementing the Strategy for Non-discrimination.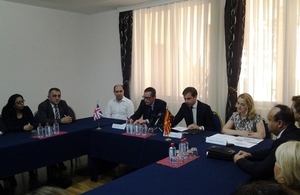 Increased capacity of government institutions in implementation of the Strategy for Equality and Non-discrimination and enhanced inter-agency cooperation on anti-discrimination was the main aim of the project support officially concluded in Skopje today by joint efforts of the British Embassy in Macedonia and the Macedonian Ministry of Labour and Social Policy.
Our ambassador Charles Garrett and Dime Spasov, Minister of Labour and Social Policy, underlined results from the implemented project and awarded certificates to representatives of the groups in the Macedonian society which have been trained to tackle and prevent discrimination.
Speaking at the event our ambassador Charles Garrett said:
Equality means that you are not discriminated against for what you are. We give a high priority in Britain to preventing discrimination and to upholding the rights of different minority groups. This is central to our efforts to build and strengthen a fair society. British equality laws are designed to ensure organisations in the public and private sectors treat everyone equally. That benefits not only individuals and society, but also the organisations themselves.
Work within the project resulted in established national training team, UK expertise in developing non-discrimination curricula, and training for over 800 public and state servants, social partners, young lawyers, judges and court administration. There were developed e-modules for continuous training on non-discrimination and non-discrimination training is now a part of regular curricula for initial and continuous training of judges and prosecutors in the Academy for Judges and Prosecutors.
The project was implemented in the period of March 2012 until spring 2014 by the British Council in Macedonia in cooperation with the Ministry of Labour and Social Policy.
Find out more about British Embassy Programme Assistance
Connect with the British Ambassador @BritAmbCGarrett
Follow us on Facebook or connect with us @ukinmacedonia
Published 31 July 2014