Press release
Stonehenge Summer Solstice Advice for Drivers
Traffic on the A303 around Stonehenge is expected to be very busy on Friday 20, June and the morning of Saturday, 21 June during the summer solstice celebrations.
This news article was withdrawn on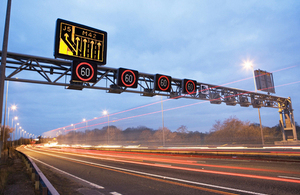 Around 35,000 people are expected to attend the celebrations which take place at sunrise on Saturday.
Stonehenge will be open for the celebrations between 19:00 on Friday 20 June to 08:00am on Saturday 21 June.
People attending the event are being encouraged to use a frequent special bus service running from Salisbury throughout the Friday night and into the next day to avoid delays reaching Stonehenge.
Road users travelling by Stonehenge on the A303 are advised to plan their journeys in advance and allow longer to reach their destinations.
See Salisbury Reds Summer Solstice bus service
General enquiries
Members of the public should contact the Highways Agency Information Line on 0300 123 5000
Media enquiries
Journalists should contact the Highways Agency press office on 0844 693 1448 and use the menu to speak to the most appropriate press officer.
Published 16 June 2014