News story
Statement on Mid Term Review
Secretary of State for Scotland Michael Moore's statement on the Mid-Term Review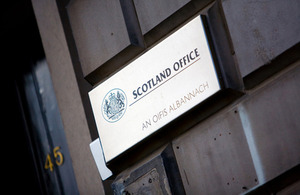 The Secretary of State for Scotland Michael Moore said:
"The Coalition government has achieved a great deal in the first half of its term".
"Making the right choices has helped Scotland. We are reducing the deficit, stabilising our economy and creating a fairer tax system which has allowed us to lift 183,000 of Scots out of tax altogether while reforming the banking sector.
"We continue to stand tall in the world, with Scots in the armed forces making the world a safer place by serving in Afghanistan and other countries. We are also working to bring an end to conflicts in places such as Syria and increase our national security through our active role in institutions such as UN and NATO.
"As a government we have increased our international aid budget and strengthened our diplomatic and trade networks around the world, using our embassies to help promote export and investment. This year will see the UK take the G8 Presidency and our influence at the top tables around the world will be as strong as ever.
"We have also seen Scotland's two governments work together constructively. We have overseen the biggest transfer of financial power in three centuries to the Scottish Parliament through the Scotland Act, alongside a range of other powers such as control of drink drive limits and air weapons. We have also negotiated a fair, legal and decisive referendum on independence.
"We are looking forward to taking on the challenges of the next two and a half years with the same dedication we have shown so far and will continue working to protect and strengthen our country, its citizens and families."
Published 7 January 2013