World news story
Statement from British High Commission on Dhaka terror attack
Message from High Commissioner Alison Blake, Acting High Commissioner Mark Clayton, and the staff of the British High Commission in Dhaka.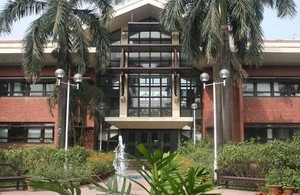 Speaking about the terror attack, they said:
"The attack at Holey Artisan Bakery in Dhaka was a senseless act of terror against innocent people living and working in Bangladesh. We offer our deepest condolences to the families and friends of all the victims who came from so many different nationalities, and pay tribute to those in the local law enforcement, security and emergency services who worked so tirelessly to help bring this terrible event to a conclusion and help all those affected.
"As a close friend of Bangladesh and fellow members of the Commonwealth, the UK cares deeply about what happens here and stands shoulder to shoulder with the people of Bangladesh in the global fight against the evils of terrorism and extremism.
"The attacks took place as people are getting together to celebrate the festival of Eid ul Fitr and in the holy month of Ramadan, with its values of charity, compassion, and community spirit. We should do all that we can to strengthen our resolve to proclaim Islam as a religion of peace and to reject those who seek to justify violence in its name."
Published 3 July 2016