World news story
Statement by the United Kingdom at the Extraordinary IAEA Board
Delivered by Ambassador David Hall, 25 July 2019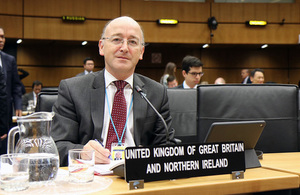 Chair,
On behalf of the United Kingdom, I would like to express my deepest condolences to the family, friends and colleagues of Mr Amano. I quote the words of the previous Foreign Secretary, Jeremy Hunt, who had met Mr Amano. He said: "I was saddened to learn of the death of Yukiya Amano, long-standing Director General of the International Atomic Energy Agency. DG Amano upheld the highest standards of professionalism in the IAEA's crucial work. He steered the IAEA with commitment and determination, navigating many complex issues".
I myself can echo the statements of the distinguished colleagues before me, and would like to very briefly add my own personal reflections. Mr Amano led this organisation for a decade with tireless dedication and a great sense of duty. His tenure was dominated in the later years by the JCPOA, where he led the Agency's crucial role in monitoring and verification of the deal in Iran with unwavering professionalism, impartiality and very astute political judgement.
He made great contributions on the nuclear applications side of the house, strengthening the link between these applications and their development potential, and showing commitment to the modernisation of the Seibersdorf labs. His tagline of 'Atoms for Peace and Development' is testament to his legacy.
In my personal relations with DG Amano, I found that he listened carefully, he showed a complete grasp of his portfolio and his organisation, and there was always a gentle twinkle of humour and wit. It is clear that Mr Amano has made a lasting impact across all areas of the IAEA's work. The international community has lost a fine diplomat and a colleague.
Published 25 July 2019