News story
Start up loans pass 1,000 mark in Scotland
£3.7m provided to businesses across the country.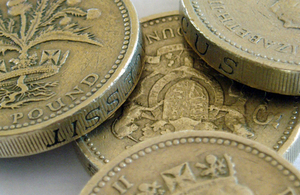 Less than a year since its introduction, figures released today show over 1,000 Scottish companies and entrepreneurs have benefited from the UK Government-funded Start Up Loans scheme.
The Start Up Loans scheme is a government-funded initiative that provides start-up support in the form of a repayable loan together with a business mentor for entrepreneurs across England, Wales, Scotland and Northern Ireland.
According to the Start Up Loan Company, more than 32,000 new jobs have been generated as a result of the scheme since it was launched in 2012.
The scheme - which was extended to Scotland in February last year - has provided over £3.7m to a variety of business ideas up and down the country. Across the whole UK, since the scheme was first introduced in England in 2012, 25,000 business have had loans approved, taking the total amount lent to new firms to nearly £130 million.
Scottish Secretary Alistair Carmichael said:
It's great to see so many enterprising Scots are making the most of the opportunities which schemes like Start Up Loans bring.

Supporting the next generation of entrepreneurs and helping them to take their ideas from the drawing board to the boardroom is a major part of this government's long term economic plan.

Together with having access to a large domestic market and an extensive global trade network, schemes like the Start Up Loans give small Scottish businesses a great platform to grow and create more jobs.
The funding for Start Up Loans is provided by the Department for Business, Innovation and Skills and administered by the 100 per cent government-owned British Business Bank. The British Business Bank makes finance markets for smaller businesses work better, enabling the sector to prosper, grow and build economic activity.
Case study – Zero Alpha Mobile
Craig Johnston set up his company Zero Alpha Mobile, a mobile phone company which donates 25% of its profits to UK military Charities and Regimental Associations, with the help of a £20,000 Start Up Loan.
Craig, from Wishaw, and his business partner Michael Waugh were both former Infantry soldiers. Having been close friends throughout the army, and working in business to business sales after, they felt that as a team they could set up a successful business as well as help Service Personnel who had fallen on hard times. From this, they came up with their business concept to establish a charitable foundation exclusively supporting UK military charities and fully funded by the sale of individual mobile phone contracts.
They launched their Limited Company Zero Alpha Mobile in December 2013, a mobile phone company offering phone contracts at great rates. They plan to increase their offering to Pay As You Go Phones in the future, to provide a wider offering for people wanting to get great deals on mobile phones, and give back by the way of profit share with charitable ex forces charities.
Craig set up the charitable arm of his business, Zero Alpha Foundation, from where he donates 25% of all his profits to military charities. The aim is to provide financial assistance to established military charities to aid in the provision of their front line support services to help our veterans and their families.
They have enjoyed discounted rates and support from other organisations who believe in their cause. Their premises are in Eurocentral, midway between Glasgow and Edinburgh, a working space for many businesses, with warehouses and office space for many businesses in Scotland. Craig and Michael currently employ one other person.
Published 19 January 2015