Spotlight on Whitehall energy waste
Energy meters in all 18 Whitehall headquarters can now be tracked by the public online in real time, Greg Barker and Francis Maude announced…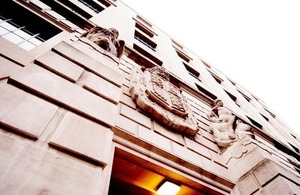 Energy meters in all 18 Whitehall headquarters can now be tracked by the public online in real time, Greg Barker and Francis Maude announced today.
The real time display innovation has been fast tracked in just three months since the Prime Minister announced central government would cut emissions by 10% over the next year.
Going public about how much energy is being wasted is the first step to changing staff behaviour across the government estate.
Energy and Climate Change minister Greg Barker, who chairs the 10% government working group, said:
"For too long Whitehall has been guilty of preaching and not acting on efficiency. Slashing energy waste in government needs to happen fast, as much for tackling the public finances as for climate change. Shining a spotlight on what's being used in real time will help staff change their behaviour and the public hold us to account. We said we'd be the greenest government ever and we mean it."
Francis Maude, Minister for the Cabinet Office, who leads on the Government's transparency agenda, said:
"The publication of the real time energy figures today is yet another demonstration of our commitment to transparency as a Government. As with other transparency initiatives we urge the public to really hold our feet to the fire and make sure that we drive down our energy use as much as possible."
The introduction of the real time energy displays is just one element of work going on across Whitehall to reduce carbon emissions. Savings are being achieved through common sense measures as simple as reducing the use of cooling systems and turning off IT equipment when not in use. Real time energy meters help departments to identify when and where energy is being used and help them try and find ways to reduce that energy use.
On 20 July, Francis Maude and Greg Barker hosted a meeting at which they called upon the facilities management industry to help departments cut carbon emissions. At this event, the Government announced a new Energy Efficiency Code under which departments and facilities management contractors will work in partnership to cut carbon emissions and benefit from each other's successful initiatives.
---
Notes for editors
All the departmental real time energy displays can be found on their website and at data.gov.uk.
Cabinet Office Press notice: "Government calls on contractors to help cut carbon emissions"
Government energy use. Final energy consumption in the service sector by sub-sector and end use 2008. Source: Department of Energy and Climate Change - secondary analysis of data from the Digest of UK Energy Statistics and Building
Baseline 2008-09: Energy use in the public sector estate
Carbon emissions 19.5 MtCO2e.
Energy spend £2.6bn
(*numbers do not add due to rounding)
Part of the public sector estate % share of emissions Use %
Core departments 3%
Catering 7
Executive agencies 5%
Computing 6
Ministry of Defence 10%
Cooling and ventilation 2
Local authorities 20%
Hot water 8
State schools 21%
Heating 63
HE institutions 11%
Lighting 8
FE institutions 4%
Other 5
NHS bodies 23%
TOTAL 100
Police, fire and rescue services 4%
TOTAL 100%*
Published 5 August 2010