World news story
Speech by Head of DFID Malawi, Jen Marshall, on the announcement of UK's support to Malawi's National Food Insecurity Response Launch
Head of DFID to Malawi, Jen Marshall, announced UKaid package at Vice President's Office in Capital Hill on 2 October 2015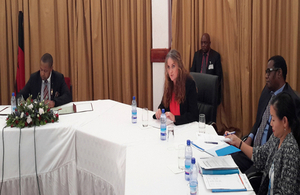 On behalf of the UK Government and the UK Minister for International Development, Grant Shapps, who himself visited Malawi in June this year, I am delighted today to announce that the UK's Department of International Development is releasing 8.75bn Kwacha (10m GBP, 15m USD) of UKAid to respond to the current food insecurity in Malawi. And I delighted that I announce this alongside the Honourable Vice President of Malawi and colleagues from the UN and NGOs.

We know Malawi's food insecurity situation is the worst for a decade – with a 30% reduction in maize yields and over 2.8 million people in need support, including under-nourished children.

The UK has been working with DoDMA, the UN and other development partners to support their production of the National Food Insecurity Response Plan launched by His Excellency President Arthur Peter Mutharika last week. Today, we are demonstrating our combined commitment to this response and implementation of the prioritised Plan.

The Government, UK and all partners here today all recognise, amidst the scarce availability of resources, the need for this year's response to be the best planned, most cost-efficient and the most effective response possible for those who need the support.

As one of Malawi's leading humanitarian donors, and working closely with DODMA and other GoM colleagues, the UK is acting swiftly to line up food and cash assistance through the food security cluster and nutritional support through the nutrition cluster. Moving now means stocks can be pre-positioned before the rains, critical for access to remote areas and to keep logistical costs down.

The vast majority of the UK's support will ensure the poorest people can access enough food.

• Wherever feasible, cash-based assistance encourages food markets to function better. Through the Save the Children led INGO consortium, we will fund cash transfers to over 450,000 of the poorest Malawians who live near markets selling food but who cannot afford to purchase it, enabling them to buy basic supplies for their families whilst making local markets work.

• Food is needed for those whose crops have failed and who live far from markets with food stocks in. UKAid will support the World Food Programme (WFP) to deliver emergency food packages including basic rations of maize and nutrient-rich cereals for over 700,000 people;

In addition, UK support is providing nutrition support to 60,000 malnourished children under five and vulnerable adults, including pregnant women and people living with tuberculosis and HIV. This support will deliver on the most urgent priorities in the nutrition cluster plan, through UNICEF and WFP.
We are pleased to announce the UK's release today of this 8.75bn MKW to address the urgent food need in Malawi. We are also planning ahead for the likely difficult El Nino season this year. The UK is mobilising resources and encourages others, including Government, to take hard decisions to ensure the most vulnerable families across the country have enough to eat this year.

And together we all recognise that we have to start doing development differently here. As the Honourable Vice President has clearly stated, Malawi urgently needs to move away from requiring food assistance year after year. In support of this, the UK is taking a triple track approach: Respond now. Plan for El Nino. Break the cycle of annual food crises.

So in addition to our humanitarian support, to help break this cycle, the UK is working to ensure that the very poorest people benefit from Britain's longer-term investment in large-scale resilience, disaster mitigation and economic development programmes across Malawi. These programmes are helping the country and Malawian families to prevent food crises and cope with the double impact of extreme poverty and climate change.

And we strongly encourage the Government to step up its efforts to tackle the critical underlying causes of extreme poverty, and of crop and market failures. Together we are committed to driving forward a national approach to building the resilience of vulnerable households and communities, and enabling families to take action for themselves.

Together right now, the UK, the Government of Malawi, UN and NGO partners are committed to delivering the most effective response possible for vulnerable families across the country.

Thank you very much
Published 4 October 2015