World news story
Speak Up for the Ombudsman in Macedonia
British Embassy provides support to raise the profile of the Ombudsman in Macedonia and motivate people to use more its services.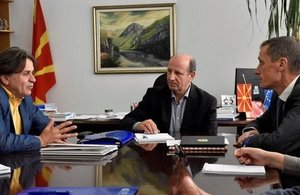 Helping to bridge the gap between the work of the Ombudsman, the institutions and the people in Macedonia is at the centre of the new programme we launched today in Skopje. In the next year and a half we will provide support to media to produce human interest stories about cases filed before the Ombudsman. The work of media aims to motivate people to use more the services of the Ombudsman and motivate institutions to take more actions when human rights are not being upheld.
Marking the cooperation today in Skopje we signed a Memorandum of Cooperation with the Ombudsman and Sakam da Kazam, the online media outlet which will be implementing the programme. Our ambassador Charles Garrett said:
Respect of human rights are at the core of the work that the Foreign & Commonwealth Office does. The UK has always supported countries where there was a need to help strengthen human rights. The long-running political crisis in Macedonia has badly undermined the public's confidence in the country's democratic and legal institutions. It is in everyone's interest that Macedonia's institutions develop a strong track-record of serving the people on a foundation of transparency, impartiality, inclusiveness and accountability. The UK, as a long-standing partner and candid friend, has a keen interest in helping Macedonia achieve this. And the Office of the Ombudsman, with the support of this project, will play a central role.
The programme will be run from September 2016 until the end of March 2018 by Sakam da Kazam.
British Embassy Skopje runs a range of programme assistance in Macedonia providing support in several reform areas with judiciary, human rights, democracy, social cohesion, public finance management, strengthening civil society and media. You can find more information about our programme assistance here.
Connect with us on Facebook or follow us @ukinmacedonia
Connect with the British Ambassador on Facebook or @BritAmbCGarrett
Read our blog UK in Macedonia
Published 6 October 2016