World news story
Southern Kyrgyzstan: First Impressions
Deputy Head of Mission Rosie Tapper visits southern Kyrgyzstan for her first visit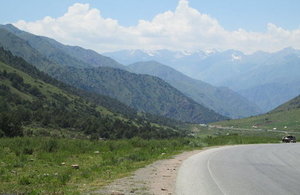 On 22-26 July, Rosie Tapper, recently arrived Deputy Head of Mission drove down to southern Kyrgyzstan for her first visit. Impressed by the vast expanse of open space between Bishkek and Osh, of a kind rarely seen in the UK, she was struck by the potential for Kyrgyzstan as a tourist destination for those wanting to escape city life and walk or horse ride in the mountains.
In Osh, Rosie met international community representatives to learn about their work, and the Ombudsman's representative to learn more about his important role in helping people exercise their human rights. She also visited a youth centre, run by UNICEF with funding from the UK Department for International Development (DFID). At the centre young people meet to exchange ideas, attend English courses and use computers. They can also develop marketable leadership and organisational skills by initiating and running social gatherings and other activities at the centre. Rosie was impressed by the appetite among youth centre users to learn English, and encouraged them to use the British Council website for this purpose. The young people at the centre said they wanted peace to prevail so they could get good jobs in the region.
Rosie also met Fergana Valley Without Borders which has helped 1,976 stateless people get the documents they need to travel, get state benefits and participate in elections so far with funding from the UK Conflict Pool.
In Jalalabad, Rosie visited a training college funded by the EU. The Director of the college showed Rosie the facilities that had been developed thanks to this EU funding, including a module for teaching welding, a skill which was in demand locally.
Throughout her time in the south, Rosie was encouraged to see how much farming activity was underway as she travelled from Osh to Jalalabad and then back over the mountains to Bishkek.
Published 2 August 2013