World news story
South East Asia Prosperity Fund 2013-2014: Indonesia Activity
This was published under the 2010 to 2015 Conservative and Liberal Democrat coalition government
Prosperity Fund Programme in Indonesia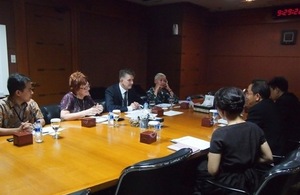 The Prosperity Fund was launched in April 2011. Its remit is to promote an open global economy in key emerging economies, tackle climate change, and strengthen energy security. Fund objectives are aimed at long-term policy changes. Since April 2011, Prosperity Fund Programme in Indonesia has supported 25 projects at a cost of £2m.
Committing approximately GBP 500,000 in 2013/2014, Indonesia prosperity fund support 10 projects in the areas of climate change, trade and economy and transparency and anti corruption.
Climate Change and Energy
In climate change agenda this year we assist to design a policy and regulatory framework recommendations to increase the deployment of waste to energy for Ministry of Energy and Mineral Resources. The area of waste to energy has been the subject of high level discussions between the UK and Indonesia, including during Prime Minister David Cameron's visit to Indonesia last year, and Indonesian officials have visited waste to energy plants in the UK on a recent trip. UK experience has been recognised by the Indonesian government and Vice Minister of Energy and Mineral Resources, Susilo Suswoutomo stated he would welcome UK input in this area.
Meanwhile, continuing the success of previous year project with Globe International and The Prakarsa in helping the establishment of Green Economy Caucus (GEC) in the parliament, we sustain parliamentary concern on sustainable development and climate change in Indonesia. Led by GEC, the legislators expected to be able to conduct investigation and examination on a number of issues such as the effectiveness and adequacy of Indonesian National Climate Change Committee, System of Environmental-Economic Accounting (SEEA), effects of Regional Grant Funding allocation social, environmental and economic consequences, and the follow up of fossil Fuel Subsidy studies. We also help to develop a business case to Improve Indonesia's energy security in the downstream oil products, biofuel, LPG and crude oil sectors through regulatory reform and level playing field competition.
Transparency and Anti Corruption
Our commitment in promoting transparency and anti corruption, implemented on our ongoing projects with Indonesia Corruption Watch (ICW) to improve the accountability and creating more effective monitoring mechanism of the public procurement system, in national and local government level.
Collaborated with Regional Autonomy Watch Committee (KPPOD) and The Institute for Economic and Social Research, Faculty of Economics, University of Indonesia (LPEM FEUI), we develop a study on the effectiveness on business licensing procedure in Jakarta. The study result is expected to become inputs for policy discourse to urge devolution of authority from technical agencies to OSS Agency, to strengthen institutional capacity of OSS Agency, and finally to improve the process of starting a business in Jakarta. This is very important for improvement of Indonesia's profile at global level which is represented by Jakarta in Doing Business survey. Through the vice governor, Jakarta government stated their support for the projects which is in line with their good governance agenda.
Further, having UK Bribery act as one of the reference, together with Transparency International Indonesia (TII) we assist Commission eradication corruption (KPK) to develop guidance on combating facilitation payment and mitigating the impact of corruption on the business environment. In order to maximize the delivery and outputs of the project, we also organize one week visit of UK Bribery Act expert from Ministry of Justice to share expertise in Indonesia.
Trade and Economy
On trade and economy sectors, supported by Centre for Strategic and International Studies (CSIS) and Trade Research and Development Agency (TREDA), Indonesia Ministry of Trade, we focus on assessing the economic impact of FTA and preparing necessary adjustment policies to correct negative effects and to maximize its benefits, that eventually brings greater political supports for future free trade agreements, including the proposed FTA between Indonesia and the European Union, in which the UK is an important member. Progressively, we assist Ministry of finance to develop a detailed road map that will present a series of steps that need to be implemented to further improve the infrastructure required for well functioning domestic Rupiah debt capital markets. The first cut road map will be developed in the financial year 2013-2014 and it is likely that it will stimulate change as it is developed.
We advance our commitment in prosperity programme by supporting 6 Indonesia related projects in regional level.
Document information
Published: 23 October 2013