Press release
Somerset builder prosecuted for dumping and burning waste near Crewkerne.
Environment Agency secures its first order banning someone from handling waste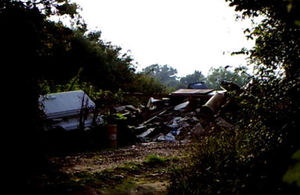 A 53-year-old Somerset builder who dumped and burned illegal waste in a field has been given a five-year Criminal Behaviour Order and 150 hours community service.
Bernard Molloy, aged 53, of Shepton Beauchamp, admitted at Taunton Crown Court to transporting, depositing and transferring waste to Walditch Lane, Merriot, Somerset. The case was brought by the Environment Agency.
The terms of the Criminal Behaviour Order stipulate Molloy, a self-employed builder, must not collect, carry, transport or deposit any waste in the course of his or any other business. It also states that he must not use any vehicle to collect, carry, transport or deposit waste as a business.
The last term of the order states that he must not enter on foot or in a vehicle Wall Ditch Lane, Merriott, Somerset or the field where waste was dumped. Bernard Molloy has also been ordered to carry out 150 hours community service and to pay £2,500 towards the investigation costs.
Bernard Molloy was questioned by police after his flat-bed Ford Transit was seen travelling to and from a field off Wall Ditch Lane, Merriott. Several people saw him driving down the lane fully- laden with builders rubble, kitchen units, fridges and freezers. His journeys to the site were usually early in the morning.
Molloy was filmed arriving at the field with waste and leaving unladen, He was also filmed burning waste. A local dog walker said he saw the flat-bed Transit on at least 20 occasions. It usually returned back up the lane empty around 30 minutes later. He did not see any other vehicle carrying waste down Wall Ditch Lane.
On August 19, 2014 Agency officers visited the site and saw it was covered in piles of domestic and business waste. The site did not have a waste permit. Documents were found in black bin bags with names and addresses on. A number of people whose names were on the documents were contacted and asked how their waste ended up in the field that is accessed via a padlocked gate.
When questioned, Molloy said he was in the 'waste clearing business' and admitted tipping rubble and hardcore in the field to make a track. He also admitted he didn't have a waste carriers licence. However, he denied tipping any other waste at the site and claimed he'd had to change the lock on the field gate several times, implying other people had entered and tipped waste at the site.
Appearing before Taunton Crown Court, Bernard Molloy pleaded guilty to depositing controlled waste including rubble, timber, electrical items and various mixed and commercial waste in a field located off Wall Ditch Lane, Merriott, without an environmental permit, between June 1 and December 18, 2014. Contrary to Regulations 12(1) and 38(1)(a) of the Environmental Permitting Regulations 2010.
Molloy was also convicted of illegally burning waste in a manner likely to cause pollution or harm to human health and transporting controlled waste without a waste carriers licence, both offences under the Environmental Protection Act 1990.
The Criminal Behaviour Order is believed to be the first such order obtained by the Environment Agency. Essentially, it prevents, by court order, a person engaging in any professional activities involving the collection, transport and deposit of waste. If the order is breached Mr Molloy will risk a prison sentence of up to five years.
Published 26 May 2016