World news story
Solidarity with the Syrian People
The British Ambassador thanks all those who donated their money, time and talents to make the benefit concert in aid of Syrian refugees possible.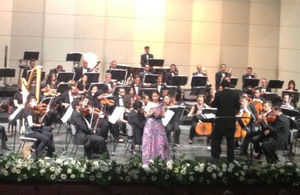 Last night's benefit concert at the Cairo Opera House in aid of Syrian refugees in Egypt turned out to be an unforgettable and moving occasion. The suffering of the Syrian people, and a common determination to offer them moral and practical support, was in the minds of audience and performers alike. The atmosphere in the auditorium was charged with emotion, and this inspired the orchestra, under the inspired conducting Maestro Nayer Nagui, to produce a wonderful level of playing. The beautiful Syrian soprano, Racha Rizk, and opposite her the talented young Egyptian tenor, Ragaa El Din Ahmed, brought passion and intensity to their programme of famous operatic arias. The great Iraqi oud-player, Naseer Shamma, gave a thrilling and incomparable performance, and the Syrian part of the programme was brought by Abdel Kader Abul Seoud with a deeply moving series of songs starting with a famous mawwal.
The British Embassy's partner in this exciting venture was UNHCR, whose Regional Director Mohamed Dayri spoke at the start of the concert about the strong humanitarian motive we all share to put an end to the fighting and human suffering in Syria, and to do all we can to assist both displaced persons and refugees. He paid tribute to the generosity of Egypt in opening its doors to the Syrian refugees who have arrived here since the start of the conflict, and who now number around 150,000. The proceeds of the concert will go through UNHCR to two charities working in Egypt directly with the Syrian community, and be used to help families in the greatest need.
The concert was supported by hundreds of people who gave generously, and I want to thank them all for their support and solidarity. I want to thank also the performers who took part, and in particular Naseer Shamma who offered his performance completely free. A list of the major donors is below. All those who were involved in this complex piece of planning and organisation know that very special thanks go to Zeinab Sabaa, of the British Embassy, for her energy, commitment and talent in making the event happen. I also want to thank the Director of the Cairo Opera, Dr. Inas Abd El Dayem, and also the Ministry of Culture, for their help and encouragement,
For my wife, Amal, and me this occasion was the realisation of a dream we have had for some time. We hope it will inspire others to engage with the crisis in Syria in a personal and practical way, and work with the Syrian communities now living among us to overcome the worst difficulties. We hope too that the power of music and of the arts in general can be put by others too at the service of our common humanity, and the cause of peace and reconciliation.
List of donors:
Oriental Weavers/British University
Americana Group
British Petroleum
British Gas
Shell Egypt
Standard Chartered Bank
Vodafone
HSBC
CIB
Citadel Capital
CIL
Bavarian Auto Group ( BMW)
Astra Travel
Wadi Degla
Alkan
BLOM Bank
Published 9 May 2013
Last updated 14 May 2013
+ show all updates
list of donors changed
Added translation