News story
Solicitor General welcomes guidance on sentencing complex frauds
Court of Appeal issues a judgment on sentences for the most serious commercial frauds and increases the sentences of two men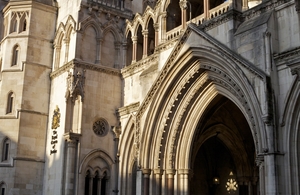 In April the Solicitor General, Oliver Heald QC MP referred the case of Achilleas Kallakis and Alexander Williams to the Court of Appeal and asked it to review how such very high value frauds are sentenced.
The offenders both had their sentences increased as a result of the referral. Achilleas Kallakis had his 7 year sentence increased to 11 years and Alexander Williams saw his 5 year term increased to 8 years.
Between 2003 and 2008, the offenders worked together with others to create an elaborate and fraudulent network of business arrangements which enabled them to borrow huge amounts of money to facilitate the purchase of valuable commercial properties. Companies controlled by Kallakis borrowed in excess of £740 million from Allied Irish Banks (AIB) to fund the purchase of sixteen properties, including prime central London properties. The loans were underpinned by the provision of guarantees, purportedly from a legitimate Hong Kong based company, but which were in fact forged. More than £77 million was acquired by the offenders for their own use. In a further offence, the offenders borrowed from Bank of Scotland PLC to convert a passenger ferry into a luxury yacht. The loan was agreed on the basis of dishonest claims about the worth of the purchasing company. The scheme unravelled causing the bank to lose more than 5 million euros.
Speaking after the case, the Solicitor General said:
We welcome the Court's finding that the culpability of the offenders was at the highest level because they set out and persisted over a significant period with planning, determination and audacious dishonesty to commit a commercial fraud with international proportion.
We are pleased that the Court agreed that consecutive sentences were required to reflect the fact that two separate banks fell victim to the offenders.
The Court also recognised that the consequence of the fraud, saying that it was not merely the substantial risk of financial loss to the bank but included the disruption of its normal business and the need to take exceptional measures to investigate and protect the bank's position.
Achilleas Kallakis was very much the 'front man' of the pair, enjoying a lavish lifestyle including a private jet, a helicopter, a fleet of cars and a luxury yacht. Alexander Williams was a talented forger and was responsible for the production of the false documents which were used to support the loan applications.
Published 16 May 2013