News story
Solicitor General visits Lawyers in Schools project
Solicitor General, Robert Buckland QC MP visits Burlington Danes Academy to see the Lawyers in Schools project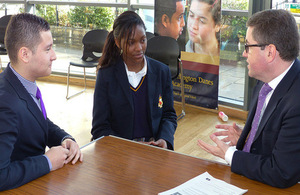 The Solicitor General, Robert Buckland QC MP today visited the Burlington Danes Academy School in White City to witness pupils being taught by lawyers from Olswang and BBC Worldwide involved in the Lawyers in Schools project run by the Citizenship Foundation.
The Solicitor General, Robert Buckland, QC MP said:
All citizens, in every part of the United Kingdom, need and deserve an understanding of the legal system, how it works, and their rights and responsibilities within it. Teaching citizenship, and particularly public legal education, in schools, through the curriculum, is essential: It gives everyone an equal opportunity to develop an understanding of the law.
The legal system is one of the main ways in which our society functions as a democracy. Understanding that link is essential for all young people to become confident, effective members of society. I'm really pleased to be visiting Burlington Danes Academy to see this project in action.
Two classes of year 10 students worked in small groups with professional lawyers and learned about topics on Intellectual Property, such as copyright, patents, trademarks and downloading music from the internet.
Pupil Laureen Agymang (pictured) from class 10B said:
It is an exciting opportunity to meet people from the career world of law and gain insight into the work they do
Pupil Dylan Arango (pictured) from class 10U said:
It is a very intellectual opportunity to learn about the law. It opens your mind to the daily things we may do
Published 6 March 2015