Press release
Smoother journeys from A66 wear and tear repairs at Brough
Overnight work to tackle wear and repair along the A66 around Brough in Cumbria started this week and will continue intermittently until the middle of August.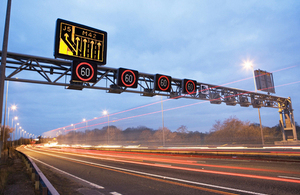 The Highways Agency is spending £170,000 on three projects to remove potholes, tackle other surface wear and renew road studs and road markings along stretches of the westbound eastbound carriageway of the route between Brough and up to the border with County Durham at Stainmore.
Highways Agency project sponsor Peter Gee said:
This is routine work to ensure users of the A66 can continue to benefit from safe and smooth journeys.
All the work is being done overnight and the routes is being kept open at all times although lane closures will be in place at times and on occasion drivers will be stopped ahead of the road works and led past them in 10mph convoys. A 40mph speed limit will be in place during the work.
Four nights of work around the Boundary at Stainmore started on Monday night (7 July) and the work was completed this morning (Friday 11 July).
Further repairs will be taking place around Barras junction over two nights from Monday 21 July.
The final phase of repairs will be delivered overnight over five nights along Brough bypass between Monday 11 August and Saturday 16 August.
General enquiries
Members of the public should contact the Highways Agency Information Line on 0300 123 5000
Media enquiries
Journalists should contact the Highways Agency press office on 0844 693 1448 and use the menu to speak to the most appropriate press officer.
Published 10 July 2014