Press release
Smoother journey for drivers on the A69 in Northumberland
Drivers on the A69 in Northumberland will benefit from safer, smoother journeys as the Highways Agency carries out resurfacing works at Hexham, Henshaw, and Wharmley.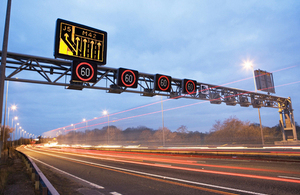 Work will begin on Tuesday 6 May and be completed by Friday 20 June. All work will be carried out on the westbound carriageway and will take place overnight between 7pm and 7am.
Highways Agency Project Manager Kyle Maylard said:
We are carrying out this work overnight to minimise any disruption to drivers. Work will take place at three locations on the westbound A69, with work taking place at one location at a time. Speed restrictions will be in place during the work for the safety of drivers and road workers
Resurfacing work will begin on the westbound carriageway at Hexham on Tuesday 6 May, and continue for 2 weeks. Work will take place between Constantius Bridge and the start of the single carriageway section of road. During the work the A69 will be closed at the Hexham West junction for approximately 5 nights, beginning on 6 May and clearly signed diversion routes will be in place.
Traffic wishing to use the A69 will be diverted at the B6531 Eilansgate/Leazes Lane junction, westwards along Eilansgate, which then changes to Haugh Lane and Alemouth Road, and onto the A6079 Rotary Way. Traffic will join the A69 at Bridge End Roundabout. Drivers using the A69 who wish to use the Hexham West junction will follow the same route in reverse.
On Tuesday 27 May resurfacing work will begin at Wharmley for 2 weeks. Work will start at Coastley and westward to Wharmley.
Finally, on Monday 9 June work will begin at Henshaw, for 2 weeks. Work starts 300 metres west of the Henshaw junction and extend 700 metres westward towards Hardriding.
General enquiries
Members of the public should contact the Highways Agency Information Line on 0300 123 5000
Media enquiries
Journalists should contact the Highways Agency press office on 0844 693 1448 and use the menu to speak to the most appropriate press officer
Published 29 April 2014