News story
Smaller Businesses Given Chance to Impress
LLWR continues to lead the way in its support for smaller businesses, with 33% of its overall direct and indirect expenditure in 2016/17 placed with Small to Medium-Sized Enterprises (SMEs).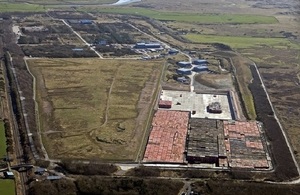 This compares to a government target of 23.5-25% and equates to £16.7m.
Tom Crowe, LLWR's Head of Procurement, said:
We worked with in excess of 125 SMEs last year and produced a really, really good effort.
Tom warned that it would not prove easy to match the figure this year, as several enterprises that were SMEs when LLWR first placed contracts with them, have grown to such an extent they no longer fit into this category.
Significant sums were spent with Cumbrian SMEs such as Tyson H Burridge, Romar and Prima Uno.
LLWR's Business Services Marketplace, that was established last year to give smaller enterprises a fair opportunity to compete for contracts, has proved successful, with over 50% of businesses classed as SMEs receiving work.
Tom added:
We've also changed the way we advertise work to the supply chain through our website.

Improvements to our Procurement Plan, further interaction with the supply chain and improving the long-range visibility of work, enabling suppliers to see what will be required, should all help.
Published 7 July 2017