News story
Size and health of the UK space industry survey 2014
The UK Space Agency has embarked on its biennial survey of the space industry and has contracted London Economics to undertake the task.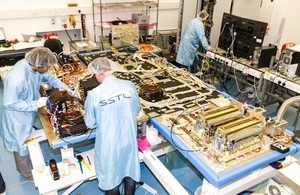 All organisations active in the UK who supply, or make use of, the space sector are invited to participate. The survey has historically split the space economy into upstream and downstream segments. The 2014 study is seeking to expand the scope to explicitly include space-enabled value-added applications (e.g. GPS location-based services, earth observation data processing, meteorology, mapping, etc.). If you believe the survey is relevant for your organisation, we welcome your participation.
You can download a letter from the UK Space Agency Chief Executive explaining the background and importance of the survey below.
PDF, 32.4KB, 2 pages
This file may not be suitable for users of assistive technology. Request an accessible format.
If you use assistive technology (such as a screen reader) and need a version of this document in a more accessible format, please email info@ukspaceagency.bis.gsi.gov.uk. Please tell us what format you need. It will help us if you say what assistive technology you use.
The survey should take less than 20 minutes for an SME to complete. Please have a copy of your organisation's annual accounts covering the years 2011/12 and 2012/13 to hand before you begin. Should you have any query, please do not hesitate to contact Greg Sadlier at London Economics on 020 3701 7707 or by email gsadlier@londoneconomics.co.uk.