World news story
Six Indian companies emerge as winners of GREAT Tech Rocketships 2016
UK Trade and Investment (UKTI) India and iSPIRT announce the winners of the GREAT Tech Rocketships Initiative 2016 (GTRS)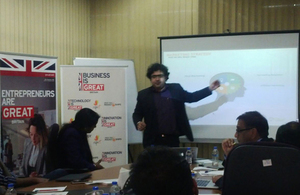 The six winners are:
Wigzo - A machine learning engine that understands user attributes, and allows marketeers to personalise and engage each user 1:1 onsite, and on communications.

Tydy - Employee Onboarding and Engagement Software. With automated and paperless data collection, a process built on best practices, customised workflows based on teams, groups or locations and a complete feedback management system - tydy makes onboarding a really seamless part of building a successful organisation.

Silver Push - A platform which measures true ROI of TV ads, by mapping TV ad spots with digital performance, backed by 15 patents (pending) and real-time TV ad tracking technology.

SayPay - Provides voice biometric authentication solution that eliminates hardware tokens/OTPs used by financial institutions for wealth management & corporate clients.

Project Mudra - Technology for Braille-based education for visually impaired people and innovative solutions for non-visual data delivery to meet the growing accessibility needs of smart urban spaces.

FT Cash - A mobile app that allows micro-merchants to come on-board in less than 5 minutes and allows customers to make payments electronically through credit/debit cards, mobile wallets and PayPal.
In its second year, and part of the India-UK Tech bridge initiative, the GREAT Tech Rocketships awards connect India's high-potential technology companies to the business and entrepreneurship ecosystem in the UK. This ambitious initiative was launched in 2014 and this year applications opened on January 14, with a call for submissions from the most impressive emerging tech companies in India. The competition offers the opportunity to fast-track their international growth through access to the UKs leading tech clusters.
Kumar Iyer, Director General of UKTI in India said:
We are really excited to see the high growth potential among young Indian entrepreneurs. The competition was tough but it shows that 'Start-up India' is alive and kicking, and through these awards the winners will not only be national winners but hopefully internationally successful too. We hope this is the beginning of a fantastic journey for them where UKTI is here to help and introduce them to international networks, mentors and new ideas, starting with their upcoming visit to the UK. There really are some GREAT companies here!
The UK is an excellent platform for Indian companies to gain access to the right exposure and resources to assist them to go global. It is the number one destination for FDI in Europe, having attracted a record number of FDI projects, bringing in the largest financial value and associated jobs over the past year. Around 50% of that figure is in tech. The UK has a vast pool of experienced industry leaders, veterans, venture capitalists and mentors that can provide the right direction to startups to establish a firm footing abroad. One of the greatest barriers new companies face in their journey is access to capital, and this is an area where the UK can help significantly.
This year's winners get a week long fully paid trip to UK that includes:
bespoke interaction with world class investors, incubation hubs and science tech parks
a guided tour of Tech City, Europe's most vibrant innovation hub
networking sessions with like-minded entrepreneurs, start-ups, research scholars and pioneering companies
Through this trip to the UK, the winners will get an opportunity to interact with the local technology ecosystems; meet other entrepreneurs; identify funding options and build product propositions to fit those markets.
Sharad Sharma, Co-Founder and Governing Council Member iSPIRT said:
A number of technology startups in India are now well-prepared for global markets. Through this initiative we provide high-potential companies with assistance and access to the UK market as a first step for them to go global.
The nationwide initiative saw 285 applications from across India. Applyifi, the program partner for this initiative curated 40 for a jury across 4 Indian cities (Bengaluru, Mumbai, Hyderabad and New Delhi). 11 startups were shortlisted in the regional rounds and were reviewed by an international jury comprising Julie Lake (Co-Founder The FinTech50 and Director FinTechCity), Sharad Sharma (Co-founder iSPIRT), Baz Saidieh (CEO TrueStart), Ian Fordham (CEO of Edtech UK), Satyam Bansal (Director, Strategic Alliances and Gift Cards), Alpesh Patel (UK Government Dealmaker, Private Equity Fund Manager, Fintech Entrepreneur) and Prajakt Raut (Co-founder Applyifi).
Further information:
UK Trade & Investment (UKTI) is the government department that helps UK-based companies succeed in the global economy. UKTI works with UK based businesses to ensure their success in international markets through exports. We encourage and support overseas companies to look at the UK as the best place to set up or expand their business.In India we do that through a network of diplomats and local specialists spanning the entire country. Our trade and investment experts are based in the British High Commission in New Delhi and in our Deputy High Commissions in Mumbai, Bengaluru, Chennai, Hyderabad, Kolkata, Chandigarh, Pune and Ahmedabad.

our sector expertise covers mass transport, financial services, infrastructure, life sciences, creative industries, energy, business and consumer services, education and skills, defence and security, healthcare, advanced engineering, aerospace, agri-tech, chemicals, automotive, smart cities and ICT.

GREAT for Collaboration is an ambitious and exciting new campaign showcasing India-UK business collaboration. The campaign, launched by Prime Minister Modi and Prime Minister Cameron, will inspire new partnerships and encourage greater awareness of the scale of the UK's commitment to India. The overall objective is to increase business between the two countries across a range of sectors, such as energy, healthcare, advanced manufacturing, financial services and infrastructure.

GREAT for Collaboration video
iSPIRT Foundation connects and guides software product entrepreneurs and catalyses business growth. It's an enabler of a stronger ecosystem. We encourage buyers to improve performance by leveraging software products effectively. We advise policy makers on interventions that can set the industry on a higher growth trajectory. We are a not-for-profit industry think-tank founded by key participants and proponents of the Indian software product industry

Applyifi is an online pitch deck & assessment report platform for startups. Applyifi guides startups in creating a comprehensive pitch deck, and provides startups and investors a 36-point scorecard and assessment report on the startup's investment worthiness.
For media queries, please contact:
Stuart Adam, Head,
Press and Communications
British High Commission, Chanakyapuri
New Delhi 110021
Tel: 44192100; Fax: 24192411

Mail to: Jagori Dhar
Follow us on Twitter, Facebook, Flickr, Storify, Eventbrite, Blogs, Foursquare, Youtube, Instagram, Vine, Snapchat @UKinIndia, Periscope @UKinIndia
Published 4 March 2016