World news story
Six Chevening scholars return to Chile
Returning Chevening scholars from Chile are welcomed at the Residence of Ambassador Fiona Clouder in Santiago.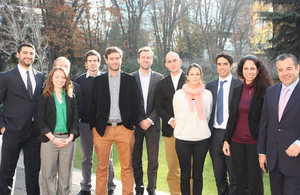 Returning Chevening scholars from Chile attended a welcome back breakfast with officers of the British Embassy and heads of the Chevening alumni organisation at the Ambassador's Residence in Santiago on Thursday 29 May 2014.
Embassy officers and Chevening alumni were interested in hearing about the scholars' experience of studying and living in the UK. The scholars went on to talk about the ways in which Chevening had helped them achieve their goals, before discussing their plans for the future. Finally, they were invited by the two heads of the alumni organisation to become active members of the alumni community, and take part in upcoming events.
The six returning scholars were Cristobal Barros and Daniel Carvallo, both of whom studied at the London School of Economics and Political Science (LSE), Francisco Borquez (University College London), Sebastian Ibañez (University of Manchester), Christian Quirch (Cranfield University) and Valeria Godoy (University of Edinburgh). Also attending were the two heads of the Chevening alumni organisation, Eduardo Lagos and Soledad Salman.
Chevening Scholarship places have tripled for 2015/2016 academic year which means the UK will have more than 1500 Chevening scholars in total, including several from Chile. Applications for the 2015/2016 Chevening Scholarship programme will be available later this year. Check the Chevening website for further information and details of country priority areas and closing dates.
Further information
Chevening alumni interested in participating in upcoming events can contact Heather Goodale, Chile Chevening Officer, British Embassy, Santiago.
For more information about the activities of the British Embassy in Santiago, follow us on:
Published 3 June 2014