World news story
Sir David King's visit to Venezuela
The Foreign Secretary's Special Representative for Climate Change was in Caracas to talk about his work.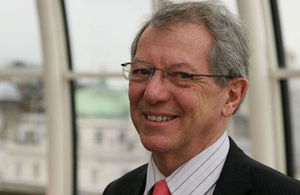 Sir David King, the Foreign Secretary's Special Representative for Climate Change, visited Venezuela from 2 to 5 October.
Sir David King met with Venezuelan Government, NGOs, the private sector and academics, to discuss the challenges and opportunities of climate change and the importance of adopting mitigation and adaptation measures early.
During a public conference at the headquarters of CAF – Development Bank of Latin America, Sir David King talked about the economic and social impacts of climate change and how they could affect the region. He presented the Human Dynamics of Climate Change tool, an interactive map that shows the range and complexities of the potential impacts of climate change, and the way these would affect the population in the context of a globalised world.
He also introduced the Future Cities Catapult, an urban innovation programme developed in the UK through which cities, businesses and universities come together to develop solutions to the current challenges that our cities face and the imperative of adapting to climate change, reducing harmful emissions and ensuring development is sustainable.
Published 4 October 2014