World news story
Sir David King visits Chile to talk Climate Change
The work and visit of Sir David King to Chile strongly supports global prosperity goals of the United Kingdom.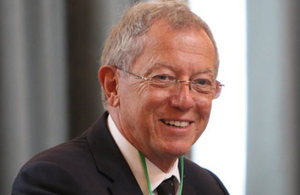 Sir David King will be in Chile on 30 September where he will be attending meetings and a number of events in his role as special representative for climate change for the UK Government.
Sir David's programme will include a roundtable with leading representatives from academia, NGOs and private sector, plus a meeting with the Chilean Corporate Leaders Group. He will give a lecture at Universidad de Chile about climate change challenges and have the opportunity to meet Embassy stakeholders and Chevening alumni. He will also be meeting the Under Secretary of Foreign Affairs.
Regarding his visit to Chile, Sir David has said:
I'm really pleased to be in Chile to talk about one of the biggest challenges facing our planet. Climate change can disrupt economic prosperity and food, water and energy security. But we do not need to choose between fighting climate change and growing the world's economy: there is also opportunity in a lower carbon world! A global deal in Paris will help to trigger the level of investment and economies of scale needed. But Paris is only the beginning. It will be important to secure provision for countries to increase their ambition as we go forward.
The work and visit of Sir David King strongly supports UK global prosperity goals. Tackling climate change is a key UK domestic and international priority. The UK is proud to work with Chile on measures to face this challenge.
The Foreign Secretary appointed Sir David King as his new permanent Special Representative for Climate Change in September 2013. Sir David was previously the Government's Chief Scientific Advisor from 2000 – 2007, during which time he raised awareness of the need for governments to act on climate change and was instrumental in creating the Energy Technologies Institute. He also served as the Founding Director of the Smith School of Enterprise and Environment at Oxford; was Head of the Department of Chemistry at Cambridge University 1993-2000 and Master of Downing College at Cambridge 1995 -2000.
Sir David has published over 500 papers on science and policy, for which he has received numerous awards, and holds 22 Honorary Degrees from universities around the world. Elected a Fellow of the Royal Society in 1991, a Foreign Fellow of the American Academy of Arts and Sciences in 2002 and knighted in 2003, Sir David was also made an Officer of the French Legion d'Honneur' in 2009, for work which has contributed to responding to the climate and energy challenge.
Further information
For more information about this visit, contact Felipe Osses, Climate Change and Green Growth Officer, British Embassy, Santiago.
For more information about the events and activities of the British Embassy in Santiago, follow us on:
Published 29 September 2015