Press release
Sign upgrade work starts on A46 between Twyford and Salford Priors, Warwickshire
The Highways Agency is to replace signs at 13 locations along the A46 between Twyford and Salford Priors in Warwickshire, from Monday 15 December.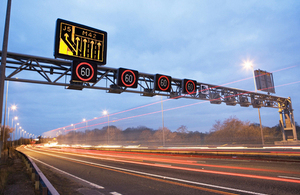 The work will stop for Christmas on Tuesday 23 December and resume on Friday 2 January until 30 January. It will be carried out in four phases, from 9.30am to 3.30pm.
Phase one involves daytime lane closures on the A46 between Salford Priors and Twyford roundabout. Phase two will require lane closures at Salford Priors Roundabout and temporary traffic lights on Station Road while phases 3A and 3B will see lane closures on the Twyford Roundabout and the services splitter island.
Highways Agency project manager Purnima Kaul said:
Replacing the signs will bring them up to current standards for text height, impact and reflectivity and lead to improved safety for road users.

We advise road users to allow extra time for their journeys, especially as the work will be carried out in the day.
Advance road signs will advise road users how long each phase will last and when the next is due to start.
General enquiries
Members of the public should contact the Highways Agency Information Line on 0300 123 5000.
Media enquiries
Journalists should contact the Highways Agency press office on 0844 693 1448 and use the menu to speak to the most appropriate press officer.
Published 12 December 2014