World news story
Showcasing DFID's Human Development Innovation Fund (HIDF)
Technology hub showcases '#Mawazo' challenge and innovative UK funded projects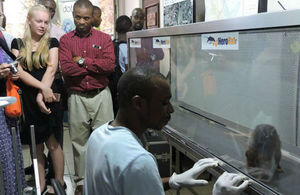 UK grant giving enterprise, the Human Innovation Development Fund (HDIF) and a technology lab based in Dar es Salaam called 'BUNI Hub', welcomed, Vel Gnanendran, the Head of the UK Department for International Development (DFID) Tanzania and Dr Hassan Mshinda, Director General of Tanzania Commission of Science and Technology (COSTECH), to a technology driven event on Tuesday 26 July to launch the '#Mawazo Challenge'.
The '#Mawazo Challenge', is on a quest to find design concepts for a new challenge which could solve community problems in education, health and, water, sanitation and hygiene (WASH) in Tanzania. Although Tanzania has significantly expanded access to basic services in the social sector, the delivery of basic services still faces serious challenges.
DFID, through its Human Development Innovation Fund (HDIF), is providing £30m (2013-2018) to catalyse the development and testing of new models of service delivery and strengthen the culture of innovation and use of science and technology in development.
Funding is for three basic service sectors: Health, Education and Water, Sanitation and Hygiene (WaSH). The fund also provides support to Tanzania Commission for Science and Technology (COSTECH) to improve evidence uptake and facilitates adoption of new technologies in government departments.
The programme targets ideas which have not been tested before in Tanzania from NGO's, private sector and learning institutions. Winners of all HDIF funding opportunities are selected based on a combination and balance of 5 criteria: innovation, development impact, viability, organisational capacity, and results measurement. Winning innovations cover a range of notable themes including early childhood development, youth and job creation, ICT applications and innovations that support women and girls.
By tapping in to the latest home-grown Tanzanian innovations we can help the local population access quality healthcare, education and clean water and sanitation", said Vel Gnanendran, who recognised that innovation and technology is making a difference to the lives of ordinary people in Tanzania.
A number of HDIF grantees in Tanzania with remarkable results were showcased at the event including rats being used to detect TB. Guests were also treated to a brainstorming session, 'Mawazo Lite', led by HDIF's innovation Fellow Johnpaul Barretto.
The Mawazo Challenge encourages anyone to submit an idea. The aim is find exciting ideas that can become the basis to transform much needed social services.
HDIF, UK Aid, and COSTECH are working hard to help support the innovation ecosystem by linking great Tanzanian researchers, technology experts, entrepreneurs, creatives, development professionals, and policy makers. Our vision is that, together, we can continually design, test, and scale innovations that help Tanzania accelerate human development", said David B. McGinty, Team Leader of HDIF.
About HDIF
HDIF aims to identify and support innovations that have the potential to create social impact in education, health and, water, sanitation and hygiene (WASH) across Tanzania. With a focus on market driven solutions, HDIF catalyses the development, testing and scaling of innovative models of service delivery, information and communication technologies for development (ICT4D), and product solutions in health, education and WASH. The following are three main components of the programme:
Inspiring quad-aligned networking and strategic awards that cultivate the innovation ecosystem in human development.
Catalyzing the diffusion of innovations in human development.
Transforming the focus and quantity of evidence available to key stakeholders on the practice of innovation in human development.
HDIF supports the diffusion of innovations in Tanzania by inspiring youth to stand up and take risks, catalyzing great ideas through funding and mentoring, and transforming the use of evidence for policy-making and market adoption. When HDIF launched in September 2013 Tanzania's Global Innovation Index rating was 123 out of 142 countries. Tanzania has since risen to 117 out of 143 countries in 2015.
For more information please visit: hdif-tz
About BUNI Hub
Buni is a technology Hub which fosters innovation and technology entrepreneurship through capacity building, mentoring programs and community empowerment. For more information please visit buni tanzania
Published 3 August 2016