World news story
Shorter visits Tripoli: A city of diversity and tolerance
Ambassador Hugo Shorter visited Tripoli and discussed the political, social and economic situation in the city and toured the old souk.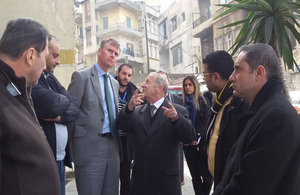 British Ambassador Designate to Lebanon Hugo Shorter visited the northern city of Tripoli today on his first official visit. Ambassador Shorter met with the Mufti of Tripoli and the North Malek el Shaar, the former Prime Minister Najib Mikati, and UNDP and municipality officials to discuss the political, social and economic situation in the city. Shorter also toured the old souk of Tripoli and laid a wreath at the Commonwealth War Cemetery.
Ambassador Shorter said after the visit:
I had had a fascinating visit to Tripoli today on my first visit to the capital of the North. My visit was an opportunity to deepen my understanding of the issues facing the city and its diverse communities. For years, Tripoli withstood grave incidents and remained united and tolerant.

I met with Mufti Malek El Shaar who shared insights about the important role of religious leaders in the community. With the Mufti, I welcomed all steps by religious leaders to promote peace, tolerance and coexistence. I also discussed with former PM Mikati the challenges and opportunities for Tripoli and heard about how the city is coping with the effect of the Syria crisis. I believe Lebanon has a powerful message to send about fighting extremism and how to work together to maintain peace and stability for the safety of its citizens.

I also had a chance to visit Tripoli's renowned Old Souk, and heard from members of the Municipal council, and UNDP country director Luca Renda on the revitalisation of the Talaat Al Refaei Area, a half a million dollar project supported by the UK. The renovation will help attract more visitors and transform the façade of the souk. I also discussed other projects running aimed at tackling poverty and providing economic opportunities which will make a real difference to people's everyday lives.
At the end of my visit I laid a wreath at the Commonwealth War Cemetery, a poignant reminder of the sacrifices made by earlier generations, and the responsibility we all share to work towards a long and lasting peace.
Published 28 January 2016