World news story
Shorter hopes for increased women representation in parliament
Ambassador Hugo Shorter met with Prime Minister Saad Hariri, discussions focused on latest local and regional developments as well as upcoming elections.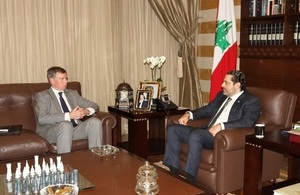 Following his meeting with Prime Minister Saad Hariri, British Ambassador to Lebanon Hugo Shorter said:
It was an honour to meet Prime Minister Hariri and to discuss upcoming international conferences for Lebanon's security and prosperity.

The UK is one of the biggest supporters of Lebanon in terms of our security partnership and aid contributions. I look forward to this continuing, in the framework of the relevant UN Security Council Resolutions and statements of the International Support Group for Lebanon.

We also discussed the latest regional developments. I reiterated to Prime Minister Hariri the importance for the UK of Lebanon's policy of disassociation to ensure security, stability and prosperity for Lebanon.

We also discussed the upcoming elections. It remains very important that these happen on 6 May as planned. I discussed with His Excellency, as leader of the Future Movement, the desirability of ensuring that enough women candidates were on the party's lists to ensure increased representation of women in parliament. This is something which I know many Lebanese are hoping for. I was pleased to hear from His Excellency his assurances that Future Movement is working towards 30% of female candidates on future's electoral lists.
Published 18 January 2018