Shipbuilding links Britain with Russia
A number of shipbuilding-related events took place in the Russia's naval capital, St Petersburg, in September 2013.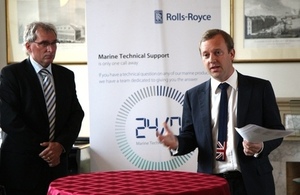 Shipbuilding is part of the history of British-Russian relations, starting from the moment when Peter the Great visited London to inspect the dockyards and learn how to create his own naval force. In September 2013, a representative from the Chatham Historic Dockyard came in the other direction to visit St Petersburg. He had meetings with the authorities and experts in the island fortress of Kronshtadt in the Gulf of Finland. Kronshtadt has long played an important defensive role for Russia and is the site of historic naval dockyards from a period which overlaps with Chatham. This visit provided a useful opportunity to share experience about the preservation of historic sites, and their reincarnation as vibrant tourist destinations and economic hubs.
In parallel, St Petersburg has also been holding the NEVA 2013 shipbuilding exhibition, which gathers industry specialists from over 37 countries. This year there was active interest from the UK shipbuilding sector, which wants to deepen co-operation with Russian companies, where demand for advanced and innovative equipment is high. 8 British companies attended NEVA, to showcase their navigation systems, advanced bolt technology, fire safety equipment and oil spill detectors. In addition, Rolls-Royce International held an event at the British Consulate to highlight the opening of its new expanded sales and service office in St Petersburg. The Rolls-Royce International presentation on how to match high-tech equipment with top-quality servicing to ensure energy efficiency and reliability, was well received by the international audience of shipbuilders.
Published 4 October 2013