Press release
Severn Trent fined over pollution of the Messingham Reservoir
On 14 May 2014, Severn Trent Water Limited pleaded guilty at Scunthorpe Magistrates' Court to polluting the Messingham Reservoir, a local fishing pond near Carcar Farm in North Lincolnshire with untreated sewage which led to a significant fish kill.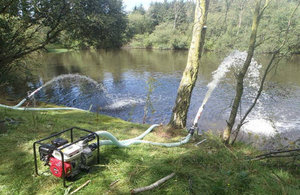 The company was fined £25,000 and ordered to pay £10,267.05 in costs, along with a £15 victim surcharge.
The charges were brought by the Environment Agency under Regulation 38(1)(a) and Regulation 12(1)(b) of the Environmental Permitting Regulations 2010.
On 20 August 2012 the Environment Agency received a report from Severn Trent Water Limited that sewage was discharging from a blocked manhole in a field of wheat east of Carcar Farm. The sewage then flowed over the field into a ditch known as the Gelder Beck, then into the Catchwater Drain, consequently entering Messingham Reservoir via an overflow pipe.
The Messingham Reservoir is a 35-year-old pond stocked with a variety of fish including perch, carp and pike.
Environment Agency officers who attended the site – situated between North Moor Road and the A159 - on 20 August 2012 noticed a raised manhole cover that was discharging liquid from around the side of the cover. The discharge was entering the watercourse in a number of places by over-tipping the bank. Our officers noted a land drain pipe discharging liquid into the watercourse, as well as witnessing some of the fish which had died.
An investigation carried out by the Environment Agency into the incident identified that over 2000 metres of watercourse were contaminated with sewage.
Speaking after the case, an Environment Agency officer in charge of the investigation said:
We take cases of pollution to watercourses seriously due to the environmental damage that can be caused. In this case, Severn Trent Water fell short of their responsibilities to maintain the sewer which led to the blockage, and so we did not hesitate to prosecute.
In mitigation, the court was told that the company pleaded guilty at the first opportunity and fully cooperated with the Environment Agency's investigation. In addition, they took significant action after the pollution incident and made a number of improvements following this event.
Published 16 May 2014