Press release
Serving prisoner to spend longer in prison after sexually assaulting another inmate
Court of Appeal has increased the sentence of serving prisoner following Attorney General referral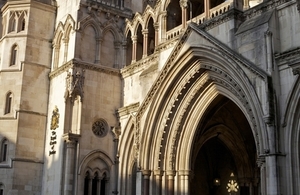 The Court of Appeal has today increased the sentence of serving prisoner, John Christon, for sexually assaulting a fellow prisoner in 2 separate attacks over Christmas 2014.
Christon, 27, was serving a sentence for breaching his notification requirements at HMP Nottingham when he committed the offences. Christon pleaded guilty to multiple charges of sexual assault and sexual assault by penetration, and received a 9 month sentence at Nottingham Crown Court in September.
Following a referral by Attorney General Jeremy Wright QC MP, the Court of Appeal has increased the sentence to 5 years' imprisonment.
Speaking after the hearing, the Attorney General said:
"I referred this case to the Court of Appeal as I believe the original sentence did not reflect the particularly violent nature of the attacks that the victim was subjected to.
"I hope this serves as reassurance that crimes of this nature will be taken seriously by the Courts, regardless of the victim's current status as a prisoner."
Published 22 November 2016