World news story
Service of remembrance held for British WWII airman in Fujairah
The service marks 75 years since a British World War ll airman perished in Fujairah crash.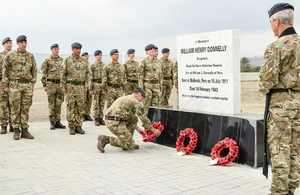 A service of remembrance was held at Sayh Dhadnah in Fujairah on 14 February 2018 to mark the 75th anniversary of the death of a British airman, Sergeant William ('Billy') Donnelly, whose plane crash-landed at the site in 1943.
The service to remember Sergeant Donnelly was attended by the British Ambassador to the UAE, Mr Philip Parham and representatives of the UK's Ministry of Defence.
On 14th February 1943, a Wellington bomber of the British Royal Air Force crash-landed at Sayh Dhadnah, near Dibba, after taking off from the Royal Air Force base in Sharjah. Of the crew of four and one passenger, one of the crew, the navigator, Sergeant William Donnelly, was seriously injured, dying shortly afterwards. He was buried by his colleagues close to the crash site.
With encouragement from His Highness Sheikh Hamad bin Mohammed Al Sharqi, Supreme Council member and Ruler of Fujairah, research identified the site of the crash several years ago, with a memorial to Sergeant Donnelly being erected in 2010.
British Ambassador to the UAE, Philip Parham said:
Today's touching service allows us to commemorate the sacrifice that Sergeant Donnelly made in the name of freedom 75 years ago. It is also a reminder of the enduring friendship between the peoples of the UK and the UAE, and of all those who lose their lives in the line of duty for their country and fellow human beings. I would like to thank His Highness Sheikh Hamad Al Sharqi, the Ruler of Fujairah, for his support for today's event.
June Botten, Billy's niece, said:
I am so grateful to both His Highness Sheikh Hamad and the British Embassy for continuing to remember Billy. I remember him with fondness and it is comforting to know that he is remembered still in the country where he died serving his country. I would also like to thank the RAF for holding Remembrance Day events at the memorial every November and for organising a wreath from the family this year. I look back at the day I, along with my daughter Lesley, unveiled Billy's memorial with a sense of wonder. It was astonishing that researchers Brien Holmes and Laurence Garey had pinpointed the site of the plane crash. At the ceremony, I met a local man who, as a boy, had witnessed the accident. His account of what happened and Brien's work answered the question I'd been living with for 70 years – what happened to Uncle Billy?
Watch the service of remembrance for Sergeant William Donnelly in Fujairah
Published 15 February 2018