World news story
Seoul speech by British Foreign Secretary on cyberspace
William Hague delivers keynote speech on cyberspace policy.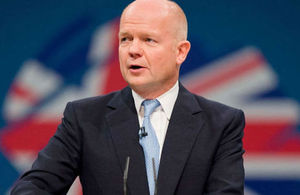 Many countries including Britain and Tanzania have concerns about cyberspace freedom versus security concerns including the menace of cyber crime. There is currently a lively debate internationally about how free the Internet and social media should be.
South Korea hosted the third international conference on cyberspace in Seoul on 17-18 October (following on from London in 2011 and Budapest in 2012) under the theme of Global Prosperity through an Open and Secure Cyberspace – Opportunities, Threats and Cooperation. The Conference focused on six key themes: Economic Growth and Development; Social and Cultural Benefits; Cybercrime; Cyber Security; International Security; and (new for this Conference) Capacity Building. Its aim was to promote policies at the national and international level that will protect the fundamental economic and social benefits of the open Internet while enabling countries to address legitimate security needs. The conference was attended by governments, industry and civil society (1700 delegates from 87 countries, 43 Ministers and Vice-Ministers), making it the biggest cyber conference in the series to date. It also attracted more delegates from developing countries than either previous Conference.
The UK's Foreign Secretary William Hague delivered a keynote speech at the conference. The speech focused on the prosperity aspects of cyber policy - promoting the economic benefits of the Internet and the core values and human rights principles vital to maintaining an open, secure and innovative Internet.
His full speech can be found at: government speeches
Published 30 October 2013