World news story
Seminar on satellite based technology cooperation with Chile
The seminar aimed at exploring the potential channels for satellite cooperation between organisations of the United Kingdom and Chile.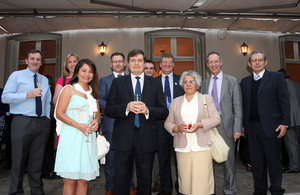 On Monday March 24th Her Majesty's Ambassador Fiona Clouder together with the Deputy Minister of Agriculture, Claudio Ternicier González opened the Seminar "Exploring opportunities for Chile-UK satellite based technology collaborations". The seminar organised by the British Embassy Santiago and the Chilean Centre of Natural Resource Information (CIREN) aimed at exploring the potential channels for satellite project cooperation between public, private and academic actors from the UK and Chile.
Over sixty participants attended the seminar where they had the opportunity to learn about best practices and experiences from leading UK satellite and space organisations such as the UK Space Agency, Satellite Applications Catapult, Met Office and Clyde Space. The event also contained a variety of presentations related to how satellite technology collaboration efforts could be used to benefit Chilean forestry, agricultural and academic sectors among others.
The day concluded with a panel focused on formulating the common areas of interest in UK-Chile satellite project work and opportunities for funding potential initiatives.
On the occasion, Ambassador Clouder gave the following speech:
Good morning. I am delighted to welcome you and in particular the Minister of Agriculture Mr. Claudio Ternicier González, who will open this seminar.

Satellites have been much in the news lately with the tragic loss of Malaysian Airlines plane. And perhaps we all increasingly realise how much satellites are part of our lives. In 1962, Britain became the third space faring nation – and the first in Europe – when it worked with NASA to build the first international satellite – Ariel 1. That mission was designed to study the very fringe of space and its interaction with the upper atmosphere.

In my lifetime, satellite capability has advanced enormously, not just for studying space, but in providing many opportunities here on Earth. Because of orbiting satellite technologies we can communicate even in the remotest parts of the world, we can navigate without knowing the seas, roads, or paths. Airports can stay open in bad weather. With satellite technologies we can better understand climate change, changing environment, and natural disasters. With images and information from satellites we can manage agriculture and industries efficiently, and enjoy satellite TV across the world.

Our Minister for Science – David Willetts – is a great advocate for space technologies and often asks his fellow Ministers ' Have you thought of how space can help solve your problem? The UK is once more seen as a leading space science nation. Companies have focussed on making satellite technology more affordable with smaller, lighter weight satellites that lower the cost of commercial launches. Surrey Satellites Technologies (SSTL) is one of the UK's most successful university spin-outs, and is the world leader in high performance small satellites.

Currently the 'Space economy' employs almost 30.000 persons in the UK, and the industry is worth £9bn annually. This is a significant industry, and one that has been growing strongly, around 7.5% per year in average. This is a growth far above many other industries. The UK government plans to more than triple the sector into a £30bn industry in the next twenty years. A key part of that is the Satellite Catapult Centre, which helps build links between the scientific researchers and the business community, helping organisations to make use of and benefit from satellite technologies, and to bring together multi-disciplinary teams to generate new products, services, and applications.

To do this, we need to collaborate together with our international partners, like Chile. This is to our mutual benefit. Chile has huge diversity of micro climates, arid desserts, glaciers, and its very long coastal line. Satellite technologies provide new ways of researching these environments, yielding new insights, new industries and new capabilities.

I am so pleased that we have here today so many British visitors. We have here today the UK Space Agency, Satellite Applications Catapult, Met Office, Clyde Space, and many British academics. Many years ago I worked for the Research Councils, involved in funding some of the research underpinning this important area. In my early career in the Foreign Office, I represented the FCO on the British National Space Agency, the precursor to the UK Space Agency. I can remember visiting Surrey Satellites in my Research Council days, when it was seen as a risky university venture. I was delighted to visit again just before coming here to Chile, to see how it had now become a world leading company.

So I am delighted both to open this seminar, and also to hear of the great work being undertaken across the satellites sector. Many of our participants are world leaders in their area of work, and today you will learn more about these organisations. I am sure that after today our British guests will have new Chilean partners and friends for future joint working. This seminar is the start of some early working together. I would like to thank CIREN for organizing this event with us, and hope that it is the start of many fruitful collaborations.
Further information
For more information about this event, contact Karl Zammit-Maempel , Head of Economic Affairs and Climate Change at the British Embassy Santiago.
For more information about the activities of the British Embassy in Santiago, follow us on:
Published 25 March 2014