Sellafield's Adam inspires the next generation
A Sellafield engineer fired up a group of young trainees with an inspirational speech at a House of Commons event.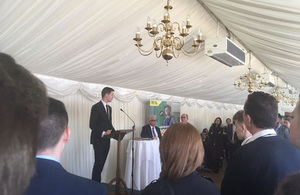 Adam Sharp was the star speaker at an event to mark National Apprenticeship Week hosted by Robert Halfon, Minister for Apprenticeships and Skills.
The 22-year-old, who completed his apprenticeship last year, was named Advanced Level Apprentice of the Year in January.
Now a mechanical design engineer, he moved from Yorkshire to Cumbria to join Sellafield Ltd's training scheme as an 18-year-old.
He shared his story with an audience of 150 apprentices and industry representatives at the Westminster event.
Adam said:
My apprenticeship has given me both the skills to become an engineer and vital life skills. I was delighted to share my story with apprentices from across the UK and also hear their stories which we can share with other aspiring students.
Adam was praised by Mr Halfon for an "inspirational speech".
Mr Halfon said:
National Apprenticeship Week showcases the best of the best and celebrates the positive impact apprenticeships and traineeships have on learners and employers.

I congratulate Sellafield for getting involved and giving people a chance to climb up the career ladder so they can get on in the world of work.
Joining Adam at the event from Sellafield Ltd were Chelsea Riley, a project management apprentice and head of training Les Studholme.
Sellafield Ltd is home to some of the most complex decommissioning challenges in the world. The company currently has 500 apprentices on the books and is widely known for its commitment to education and training.
Les added:
We are delighted to be part of this event – one of many activities we are undertaking as part of National Apprentice Week – highlighting our apprenticeship scheme at Sellafield Ltd while learning from other companies who are training the future UK talent.
Published 9 March 2017