News story
Sellafield supports transgender awareness day
Workers at Sellafield have marked International Transgender Day of Visibility to show support for colleagues within the transgender community.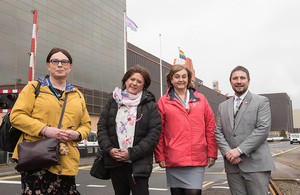 Workers at Sellafield have marked International Transgender Day of Visibility to show support for employees within the transgender community, and demonstrate the company's commitment to equality, diversity and inclusion.
A small event was held at the site, with members of the transgender and LGBT communities coming together to raise awareness. Flags were also raised as a mark of support.
Carl Lewthwaite, disability, equality and welfare adviser for Sellafield Ltd, said:
Sellafield Ltd and the supply chain have a large workforce with a diverse mix of skilled people, all working towards the same mission of cleaning up the UK's nuclear legacy.

Equality and diversity is a key part of supporting, developing and retaining a skilled, agile and respectful workforce to get the job done more safely, quickly and cost effectively.

Events like today help to raise awareness among the Sellafield workforce and local community, so we can help build a culture that goes beyond tolerance, and develops into understanding, respect and acceptance of transgender colleagues, neighbours, and any 'minority' group.
The company has policies, procedures and support networks in place to drive forward diversity, equality and inclusivity. This relates specifically to the 9 protected characteristics outlined by the Equality Act 2010, one of which is gender reassignment.
Sellafied Ltd employee, Nicole Cowles said:
I'm very happy to work for a company who has supported my transition. I can be myself, which brings out the best of me, and without fear of being verbally abused, or put down.

It has given me the confidence to mix with the public at large, where I can lead as regular a life as I can.

There are still folk out there who do not understand the transgender issue, and I feel it is important to raise awareness, in the hope that one day it will be considered as acceptable as is possible.
Amanda Mckay, quality director for Balfour Beatty, attended the event at Sellafield. She said:
Transgender Day of Visibility helps to raise awareness of the trans community, many of who remain invisible in society. It highlights that trans people do still suffer discrimination both as individuals and as a community, but also that by being able to be themselves they can contribute to work, family and society in a more effective way.
Published 3 April 2017