News story
Sellafield robots feature on a global TV network
One of the world's biggest TV news networks is a featuring a special report on the innovative work being done at Sellafield.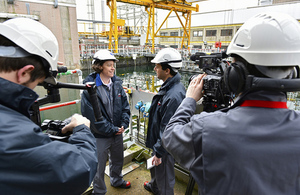 US broadcaster Bloomberg TV, which is beamed into homes around the globe, filmed a feature on how we're working with our supply chain to develop robots to help decommission the Sellafield site.
The video report features the Pile Fuel Storage Pond at Sellafield and showcases the innovative work being done by supply chain companies the Createc, Forth Engineering and the National Nuclear Laboratory.
Sellafield Ltd's technical director Rebecca Weston is among those who appear in the report. Bloomberg has also produced a piece on Sellafield for its Businessweek magazine which is read by 1 million people, mainly in the US.
Published 28 February 2017