News story
Sellafield Ltd named West Cumbria's employer of the year
Sellafield Ltd was named 'large employer of the year' at the Lakes College awards for its commitment to the education and training of young people and staff.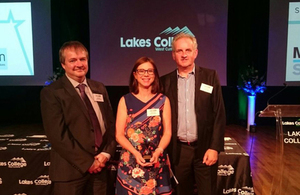 The company was commended for its extensive education and training schemes for young people, giving them the best opportunity to pursue a career not only in the nuclear industry but also in the local community and the supply chain.
Principal of Lakes College, Chris Nattress said:
We continue to have excellent relationships with Sellafield Ltd, linked to both skills and education and our wider socio-economic activity, which directly benefit our local communities.

Our recent collaborative work on the Big Rig here at the college, and the National College for Nuclear are great examples of how we work together to enhance opportunities for college students, partners, and the wider nuclear industry.

We look forward to another successful year during 2016/17.
The award was collected by Dr Donna Connor, Head of Education and Skills for Sellafield Ltd.
Dr Connor said:
I am proud to work for an organisation that helps all of its employees to realise their potential through training and education, whether those people have worked for the company for 40 years or for a couple of months as an apprentice.

We do that because it is the right thing to do, but to receive external recognition for our efforts in this vital area is an honour.
Sellafield was commended alongside Haven Care Centre LT who was awarded 'SME employer of the year' and Allerdale Borough Council who was awarded the 'community involvement' award.
Published 14 July 2016