Sellafield Ltd cancer support group prove we are 'Stronger Together'
The 'Stronger Together' cancer support group at Sellafield Ltd has joined up with Macmillan Cancer Support to provide information and advice.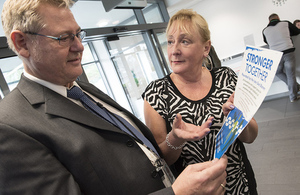 Members of the Sellafield Ltd 'Stronger Together' group were joined by Macmillan representatives at Albion Square offices in Whitehaven, providing information and advice covering a range of cancer-related issues.
The Macmillan support bus was also on hand in Whitehaven's marketplace for Copeland residents, raising awareness of the support available to those affected by cancer.
The Stronger Together group was founded by late Sellafield Ltd employee Ged Blaney to give support and information, where appropriate, to any present or past Sellafield Ltd employee and their family or carers who are affected by cancer.
It is a friendship and support group that is supported by Ged's family who attend meetings on a regular basis.
Lynne Blaney, Ged's wife, was on hand at Albion Square to ensure the ideas of her late husband continue to help others in the same situation as him.
She said:
I'm here today with my son and daughter and it makes us incredibly proud that the group is continuing to help the many employees suffering from cancer.

As a cancer sufferer himself, Ged learned that the best support comes from other sufferers who understand what you're going through, so he wanted to bring people together to help each other and this something the 'Stronger Together' group makes happen.
There were opportunities for quiet and confidential discussion as well as general information available on the exhibition stands.
Ian Andrews, Chair of the Stronger Together group, said:
We are so keen to make sure people know that there is support available to them so events like today are helping us to raise awareness and continue Ged's vision for the group, which he created before he sadly passed away from cancer.

We aim to foster mutual help, co-operation and friendship between those affected by cancer, the people delivering the support, the healthcare professionals and other organisations we will be working alongside.
The group is sponsored by Sellafield Ltd and works in partnership with various groups including Macmillan Cancer Support, the Citizens Advice Bureau, various health professionals and other local support groups.
Published 29 July 2016