News story
Sellafield Ltd apprentices best in the North West
Three Sellafield Ltd apprentices have collected awards at the 2016 National Apprenticeship Awards.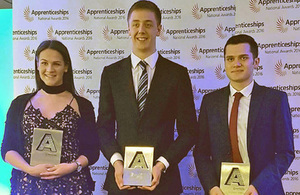 They triumphed in the section for Liverpool, Cumbria and Lancashire and will now go forward to become national winners later in the year.
These prizes were: advanced apprentice of the year for Adam Sharp, a mechanical design engineer apprentice, immediate apprentice of the year for Peter Inwood, a health physics monitor apprentice, and the apprentice champion of the year title went to Deanna Pearson, who completed her training last year and is now a health physics monitor.
Deanna said:
I'm over the moon to have been selected as the North West's apprentice champion.

To have been recognised in a category of such high standard is an accomplishment in itself. I feel all the hard work and dedication I put into my training and promoting apprenticeships has really paid off and helped me stand out to the judges.
Earlier this year Deanna was hand-selected to take part the government's national apprenticeship campaign 'Get In Go Far':
As an apprentice champion I want to help more young people understand and consider an apprenticeship and I'm proud that through the campaign I can be a role model for thousands of young people across Cumbria and the UK, someone who they can relate to and look up to.
Sellafield Ltd was also highly commended in the EON award for macro employer of the year.
Ken McEwan, Head of Training at Sellafield Ltd said:
I take great pride in seeing young people develop their skills and strive to be the best at what they do. These awards demonstrate that Cumbria is a centre for excellence for provision of the best quality education, training and employment opportunities for local people.

It was great to see Deanna, Adam and Peter being rewarded for their hard work and passion for learning, and I know they will continue to do well as they continue to grow in the future. They are all great ambassadors for the company, and for the value of apprenticeships.
Published 17 October 2016