Sellafield Ltd and NNL pledge to deliver value for UK taxpayer
A unique agreement has been formalised by Sellafield Ltd and the National Nuclear Laboratory (NNL), who have pledged to work together to deliver more value for the UK taxpayer.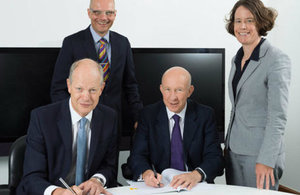 As the site drives forward its 100-year decommissioning programme, it is in the public interest for the companies to work more closely together to ensure hazard reduction on the Sellafield site is done safer, quicker and cheaper, as more innovative solutions are developed.
The new arrangement was signed by Tony Fountain, Chairman of Sellafield Ltd, and Sir Andrew Mathews, Chairman of the NNL, and builds upon a long history of joint working to reduce the UK's nuclear hazard.
It sets firm principles for the two organisations to move forward in developing technical solutions that will help deliver the nationally important environmental restoration project.
Dr Rebecca Weston, Technical Director for Sellafield Ltd, said:
To be successful the futures of Sellafield Ltd and NNL are inextricably linked. The history, knowledge and experience shared by the respective technical teams reinforce these links. It is therefore important to recognise this in the formal relationship between the organisations.
In recent years the companies have carried out vital research and development which has seen hazard reduction take huge strides forward. They have adapted industrial robots for use in one of Sellafield's modern waste stores, and conducted vital research to help manage intermediate level waste, which is set to reduce the site's clean-up bill by hundreds of millions of pounds.
Sellafield Ltd and NNL will continue to develop new technologies and encourage innovation from the supply chain, other national laboratories and academia as decommissioning activities ramp up.
Dr Paul Howarth, Managing Director of NNL, said:
Sellafield Ltd has always accounted for the largest portion of our work, and around half of our workforce – and our biggest nuclear laboratories – are based on the Sellafield site.

Within NNL we have a good deal of science, technology and innovation which can help to reduce the cost and timescales of the clean-up mission whilst improving safety. I am confident that we will see even more success ahead for both organisations – and for the UK's nuclear sector as a whole – over the coming years.
Published 18 January 2017