News story
Sellafield contracts set to create jobs and drive investment
Tens of millions of pounds will be pumped into the Cumbrian economy following the signing of a number of contracts by Sellafield Ltd.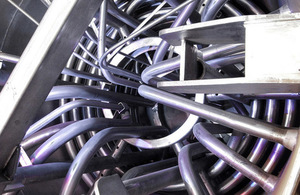 Up to 26 new jobs will be created as a result of agreements with the supply chain to provide vital equipment to the Sellafield nuclear site.
Arco, the UK's leading safety products provider, plans to create a new distribution centre close to Sellafield's logistics hub, employing up to 10 people after winning an £11 million contract to provide personal protective equipment (PPE).
And Carlisle firm Bendalls Engineering is set to create 16 new jobs in Cleator Moor after it won a £12 million deal to provide tanks and vessels – a procurement which also saw Workington's West Cumberland Engineering win £8 million-worth of work.
Martin Chown, Sellafield Ltd's Supply Chain Director, said:
We are committed to ensuring our local communities derive maximum economic benefit from the money we spend at Sellafield.

We do this by insisting that companies that win work with us invest to support local growth.

I'm delighted that Arco, a leading UK company, and Bendalls, a home-grown business, will create jobs in west Cumbria as a result of winning work at Sellafield via an open and fair competitive process.

This demonstrates the unique power of Sellafield Ltd – able to invest in the local supply chain and attract new businesses to the area.
Sean Churchill, Arco's regional sales manager for the north of England, said:
We're delighted to have this opportunity to extend our longstanding relationship with Sellafield. As the UK's leading provider of PPE, we are very much looking forward to working with Sellafield as we create a new supply chain infrastructure in west Cumbria.

We will shortly begin the process of recruiting new colleagues from the local community who will help us to deliver our expertise in safety and to keep workers at Sellafield safe.
Arco's contract will see the firm provide conventional, off-the-shelf PPE to Sellafield Ltd, Dounreay Site Restoration Ltd, International Nuclear Services, the Low Level Waste Repository, Magnox Ltd and the National Nuclear Laboratory.
The deal is worth up to £11 million over a maximum 4-year period. This represents a £2.4 million saving for UK taxpayers on the current contract.
As part of the same procurement, Romar, based at Whitehaven, has won contracts to supply workwear and specialist PPE.
Bendalls Engineering won one of 3 contracts to supply 73 tanks and vessels to Sellafield over the next 10 years.
The company will manufacture high integrity in-cell tanks and vessels, including heat exchangers and evaporators.
The work will see the business create 16 new jobs over the next 5 years at its Phoenix House base in Cleator Moor.
Tanks and vessels are the second set of contracts to be let under the principles of category management at Sellafield. This offers a standardised and modular approach to design and manufacturing, allowing for cheaper production costs, more stable schedules and better security of supply and represents a saving of up to £19 million over the historic price of these components.
Other contract winners in this procurement were Global Energy – Capital Projects and West Cumberland Engineering.
Isleburn will make high integrity out-cells tanks and vessels and in-cell medium integrity tanks and vessels, while West Cumberland will make commercial integrity tanks and vessels under its contract.
Published 21 July 2016