Seismic data released to industry
The Oil and Gas Authority has released almost 40,000 line kilometres of new and legacy seismic data
This news article was withdrawn on
The Oil & Gas Authority launched a new website on 3 October 2016 to reflect its new status as a government company.
This formalises the transfer of the Secretary of State's regulatory powers in respect of oil and gas to the OGA, and grants it new powers. This website will no longer be updated. Visitors should refer to www.ogauthority.co.uk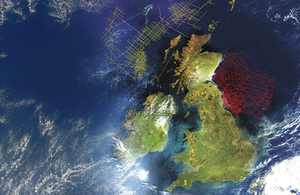 The Oil and Gas Authority has released almost 40,000 line kilometres of new and legacy seismic data from the Rockall Trough and Mid-North Sea High areas acquired during last year's £20 million Government-funded seismic survey.
The data has been published under the Open Government Licence, and is available for download and to order on media from www.ukoilandgasdata.com.
Data packages under 20GB in size may be downloaded for free, while larger data packages will be available on media only, for which a charge will be made to cover media, handling, and delivery costs.
For more information please contact:
Leona Minellas
Press and Media Advisor
Oil & Gas Authority
Tel: +44 (0) 300 020 1072

Published 1 April 2016